Why is Interoperability Such a Challenge? with Steve Plaugher of Diversified
The virtualization of hospital operating rooms is a growing reality in the medical sector, creating unique opportunities as well as challenges, all the while disrupting the medical device industry. Reducing costs and increasing collaboration in the OR are two key imperatives. With virtual capabilities growing, entire departments can be connected and transformed, speaking to both issues. Healthcare reform initiatives are pushing for higher patient satisfaction and overall outcomes, and virtualization supports these goals as well. Medical Devices are a critical component in every OR.
The challenges inherent in designing products of the highest standards demanded by the increasingly complex healthcare regulations is intense. For example, various models of equipment from different companies do not necessarily fit one another and one device company cannot likely serve every subsector of medicine. That's why it has been important to find solutions designed from the outset as vendor-neutral and vintage-agnostic, which offer hospital leaders potential for valuable cost savings.
"These phenomenal companies create these solutions, quite frankly they've designed them to ensure interoperability with their own portfolio, their own other products," said Steve Plaugher, Senior Vice President of Diversified's Medical Innovation Group. "And so by design, they don't necessarily incorporate the ability to be able to integrate with other competitive products because it's sort of against the grain."
Plaugher joined us on the podcast to break down why the medical device market is struggling with interoperability, and how that struggle is making the newfound commodity status of medtech devices harder to enjoy. Medical device companies are encouraging health facilities to invest only in their portfolio of products, which leads to more money spent investing in separate products and operating platforms, and less focus on patient care. Plaugher gives insight on what products are the most exciting in the space, and where medical device engineers and healthcare professionals should keep the surrounding conversation. "At the end of the day, the hospital wants to best invest in the best of brain technology at the least possible cost so they can drive the absolute best patient outcome as possible," Plaugher said.
Diversified, a leading global technology solutions provider delivering innovative digital media, collaborative, broadcasting, electronic security, and OTT solutions to a global clientele, secured a team of medical subject matter experts and formed a division to focus on the medical market. Its Medical Innovation Group developed the CORIS® Product Family, a vendor-neutral, vintage-agnostic IP-based integration solution architected to integrate with any medical device on the market. These products face head-on the challenges of time-efficiency, connectivity, and cost-effectiveness called for in today's complex healthcare best practices.
Learn more here about Diversified and its innovative solutions in medical technology.
HIGHLIGHTS FROM THE EPISODE
Daniel Litwin: So let's go back to the technology that is assisting the caregivers. And I want to dig into a challenge that seems interesting to me because it's not really reflective in other industries now and I'd say that's interoperability of devices. And the reason I say that is because in conversations I've had with people in Pro AV, in IOT, in building management, when they're talking about smart buildings and smart homes, the trend right now is getting rid of the black box and technology that is open sourced and does its duty but knows that it can interact with other technologies and other companies that does something else a little better or a little differently.
It doesn't really take that as an offense. And that's something that maybe we're not seeing totally in the medical device industry. There's just an issue with companies creating products that aren't interoperable with products from other company. So walk me through that trend why you think it's like that in healthcare and sort of what effect it's having on this virtualization of the operating room.
Steve Plaugher: Yeah. So that's an interesting question and quite frankly the medical device industry as a whole, by design, unfortunately as new technologies are created and these phenomenal companies create these solutions, quite frankly they've designed them to ensure interoperability with their own portfolio, their own other products. And so by design, they don't necessarily incorporate the ability to be able to integrate with other competitive products because it's sort of against the grain as it relates to their whole strategy of sell everything in their portfolio and drive solution sets that really helps to expand their market share.
So it really creates a challenge for the… literally the consumer of healthcare and quite frankly the hospital because as they invest in these technologies, the ability to be able to bring that in and integrate it into their ecosystem makes it very challenging because they're not designed to be interoperable. It's a pretty significant challenge for us. I mean there are different methods that are integrated into these systems that prevent the ability to be able for them to connect like using proprietary video formats or proprietary software. We're not an open architecture world, unfortunately, in the medical device world. So by design, we have a pretty significant chance to overcome.
Cybersecurity is a major concern in our marketplace because the people who are perpetrating these issues and penetrating these environments realize that medical devices inherently have never worried about being secure, yet they have patient demographic information, data of birth, all kinds of great information that literally is a wealth of opportunity for folks that are trying to steal that information.
But you know, now, unfortunately it's not so much that it's really more the fact that the companies are really trying to ensure that they increase their market share in the entire portfolio. And so therefore, they're trying to design solutions that are complimentary to their core product offerings and then continue to expand their market share. And in by virtue of driving that initiative sort of keeps the competitors at bay. So it's kind of a different rationale as to why that there's this common occurrence on the market.
DL: Right. And to me it almost makes sense that we're at this stage with medical device industry because I think technology and healthcare moves a little slower than in other industries due to a lot of regulation. You don't want to implement some sort of technology in the space that you haven't fully tested or you're not fully confident that it's going to be beneficial because you have people's lives at risk here. So do you think that in the next few years you'll start to see more of a trend of technology that between company and company will be more interoperable in the space?
SP: Yeah. That's a great question. I don't know if I'd use the term years. It might take a little longer than that.
DL: Yeah.
SP: But you know there are some standards that have been established in the marketplace. So for medical record systems, EMRs, they've established an HL7 standard which means that if one software application needs to talk to another, then there's literally a table that tells them how to translate one platform information to another platform's information. Anyway, back in the '80s, there was a standard that was established globally called DICOM and that help to share patient information that was acquired through MRI or CTE or individual imaging applications that put it on a common platform called PACS so that physicians could go to a single workstation and view different patient records that were acquired through different brand of imaging platforms.
And so there are some standards in place, but, you know, that's in the '80s and here we are today and if you look at the imaging world, there's a phenomenal standard that's been adopted globally. But if you look in the surgical world, there is no standard for image archive other than wanting to try to get it into the electronic medical record so that it can be at least accessed through there. So we still got a ways to go. I think, you know, sharing of information is one thing, but creating the interoperability of one medical device made by one company to another is a completely different discussion and very complex challenge.
DL: It sure is. And I understand the reasoning for wanting to create something supplemental to a core product as a company. But I guess it's waiting and seeing where the future of medical devices lie. Are you seeing the interoperability helping bring prices down or bring prices up?
SP: Well, interoperability, the benefit and the value of interoperability is it reduces the hospital's cost because they can now ensure that the investments they've made in technology is compatible with new technology that you're brining in. So that's going to help ensure that they don't have to purchase again something they've already invested in. And we're talking, you know, tens of thousands, hundreds of thousands, and millions of dollars.
So being able to leverage that existing infrastructure and those existing assets is absolutely paramount. And of course, it's all about patient outcomes, right? At the end of the day, the hospital wants to best invest in the best of brain technology at the least possible cost so they can drive the absolute best patient outcome as possible, eventually what it's all about. So being able to drive efficiencies by delivering real-time information where and when the stakeholder needs it in a format that they need it automatically is just absolutely paramount to helping to drive those costs down.
We have another barrier if you will on the medical device development side, and that as we develop these technologies and want to deploy in the market and we need them to be interoperable with the existing technologies that's already out there, you know, companies aren't going to go buy their competitors product, bring it in, and validate their solution against those competitors. A, it's too costly, and B, it's sort of against the grain, if you will. And also we're regulated by the Food and Drug Administration. We have to go through very rigorous quality management system processes.
So it really puts a whole different spin on our whole business model and our whole work product as it relates to how we bring new technology to market. In a smart home application, you know, you want to have this new capability. You see a lot of it with regard to the interoperability between the control system and these various devices that can sense when their door is open or windows open or a video camera and communicate with it. So they want to be empowered to connect to all of these because they know that this homeowner has already invested in some of these other technologies. So if they want to get their platform in, the more interoperable they are with all these other platforms, the better off they are, the greater the opportunity is for them to actually secure that business, win that customer's business.
In our world, in the medical device world, that's not quite true because it's such a different model. So you know one of the challenges you're kind of playing off of that, so interoperability with the medical devices, you know, we're sitting down to develop a new endoscopic technology or new imaging application. Then we're sort of looking at that as it relates to the value that it provides to patient care. We're not looking at it as it relates to, you know, the number one requirement specification being, "How does it integrate with everything else in the world?"
DL: Right, exactly.
SP: It's really, "What is the value of it as it relates to helping improve patient care or drive improve patient outcomes?" That's the criteria. Then the secondary element is, "How does this integrate with the existing architectures that are already existing in that space?"
For the latest news, videos, and podcasts in the Healthcare Industry, be sure to subscribe to our industry publication.
Follow us on social media for the latest updates in B2B!
Twitter – @HealthMKSL
Facebook – facebook.com/marketscale
LinkedIn – linkedin.com/company/marketscale
Latest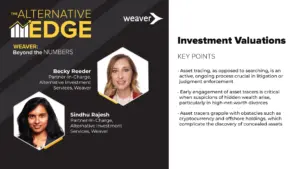 December 4, 2023
In this episode of The Alternative Edge, a Weaver: Beyond the Numbers Podcast, host Becky Reeder, an audit partner and co-leader of the alternative investments practice at Weaver, engages with Sindhu Rajesh, an Alternative Investment Services Partner with Weaver. They unpack the complexities of venture fund valuations, offering critical insights into industry dynamics and best […]
Read More