Minimally Invasive Cancellous Bone Extraction
Ranfac Marrow Cellution™ Percutaneous Autograft Collection produces autologous cancellous graft material with osteoconductive, osteoinductive and osteogenic properties using a minimally invasive cancellous bone extraction technique. It may be combined with allogeneic, autologous or synthetic bone chips hydrated with Marrow Cellution™ aspirate (www.ranfac.com/mcaspirate).
To use, insert 8-gauge Trephine Needle with Sharp Stylet until anchored in the cortex and remove Sharp Stylet. Next, advance cannula into bone marrow space with a gentle clockwise—counterclockwise motion, causing cancellous bone to enter the cannula. Then, insert sounding rod to measure length of bone inside cannula. Remove sounding rod and advance further if more volume is desired. Once adequate length is determined, insert extraction tool through the handle, pressing firmly with your palm to trap the trephi`ne specimen with the extraction tool.
There are several more steps in the extraction process, and it is important to fully understand them all before using the Marrow Cellution™ tool. To help clinicians, Ranfac created an easy to follow video that clearly demonstrates all the steps in the process. To learn more about how to complete this technique, please enjoy the video from Ranfac, a single source manufacturer of medical devices.
Read more at ranfac.com
Latest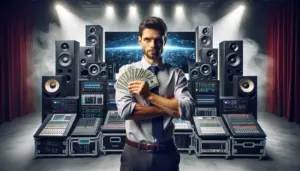 December 8, 2023
Mastering AV sales strategies in a global professional audio-visual (Pro AV) market, poised to reach $79.2 billion by 2028, requires much attention to detail. The surge in demand from corporate, government, and institutional sectors, driven by the need for enhanced productivity and efficient working environments, gives AV sales pros a lot of opportunity. In […]
Read More