For Ophthalmology, 3D Printing Eliminates Human Donors and Costly Middlemen
3D printing sounds like a concept from a sci-fi movie or an Isaac Asimov novel. It involves creating a physical, three-dimensional object from a digital file. The technology has been used for some time in niche markets, generally for prototyping. However, new breakthroughs are propelling 3D printing into the mainstream, and the technology is poised to cause serious disruptions in manufacturing and healthcare.
A recent PricewaterhouseCoopers survey of US manufacturers revealed that two out of three companies have already begun adopting 3D printing, from experimenting with the technology to using it to create final products. The same survey found that about 30% of manufacturers believe widespread adoption of 3D printing will revolutionize supply chains, shrinking them so that end-users get ahold of products faster, and without the need for costly.
Some of the most fascinating applications for 3D printing can be found within the healthcare industry. Already, enterprising researchers are using the technology to manufacture artificial tissue, organs, and the equipment needed to perform treatment procedures. For the field of ophthalmology, this can present tremendous benefits. A 3D printer can utilize patients' cells to create their own transplant organs, or print intraocular cataract lenses and artificial eyes. The technology shrinks the healthcare supply chain, reducing a patient's and clinican's dependence on costly equipment, long turnaround times for custom devices, and even human eye donors.
The Spanish Institute for Biomedical Research, at the La Paz Hospital (Instituto de Investigación Biomédica del Hospital La Paz (IdiPAZ) in Madrid is actively working toward developing 3D printed corneas by 2022, which will deliver cost-effective and highly-customizable treatment products to patients suffering from corneal pathologies. The technology will completely eliminate the need to locate suitable human donors, saving time and the vision of many patients. Manufacturers will be able to produce the required corneas in mere days, or prosthetic eyes and spectacles at the push of a button.
3D printing technology can assist in creating more specialized ophthalmology
Equipment and products, all in a way that is faster and more cost-effective than how the current supply chain operates. As a leading provider of instruments and equipment vital to the ophthalmology industry, Accutome is excited to explore how 3D printing will shape the future of eye care. Discover more about what is happening in the ophthalmic community by subscribing to the EyeOpener today!
Read more at accutome.com
Latest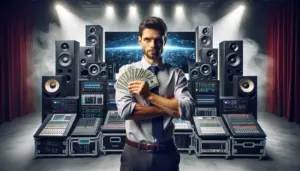 December 8, 2023
Mastering AV sales strategies in a global professional audio-visual (Pro AV) market, poised to reach $79.2 billion by 2028, requires much attention to detail. The surge in demand from corporate, government, and institutional sectors, driven by the need for enhanced productivity and efficient working environments, gives AV sales pros a lot of opportunity. In […]
Read More