Parkview Medical Center and TPC Announce Strategic Partnership
PLANO, Texas (July 11, 2018) – Parkview Medical Center, the leading healthcare provider serving Pueblo, Colorado, and its surrounding communities, has signed a membership agreement with TPC, a network of ten independent health systems in Arkansas, Colorado, Missouri and Texas. Through this agreement, TPC will serve as Parkview's strategic partner and group purchasing agent, providing aggregation strategies and performance improvement initiatives to drive significant financial value within supply chain, revenue cycle, purchased services and select insurance categories.
TPC provides a proven framework that enables independent, community-based hospitals like Parkview to optimize their operational, financial, and clinical performance through collaborative efforts to achieve large system value via standardization, utilization, pricing strategies and best practice adoption. Amid the escalating economic pressures in today's healthcare market, this approach strengthens independent hospitals' financial position and performance, and improves their ability to continue to provide the highest quality care to the patients in their communities.
"Parkview's commitment to serve the Pueblo community is unwavering and we believe the best way to meet the unique needs of our patients is to remain a strong and independent health system," said Mike Baxter, Parkview Medical Center president and chief executive officer.  "We are pleased to have found a group of like-minded hospitals in TPC that share in our values. By working together, TPC Members have shown that organizations like Parkview can achieve the benefits typically reserved for large health systems. We are excited about the opportunity to collaborate with other healthcare leaders to achieve more together."
"It's no secret that independent community hospitals will continue to face a growing number of challenges which are very difficult to navigate alone," said Geoff Brenner, TPC president and chief executive officer.  "By working together, TPC Members have repeatedly demonstrated they can improve their performances and fortify their positions as sustainable community assets. Parkview's commitment to serve its local community as a strong and independent hospital makes it a perfect fit for TPC."
"On behalf of all TPC Members, I am excited to welcome Parkview," said Tim Lancaster, TPC board chairman, and president and chief executive officer of Hendrick Medical Center in Abilene, Texas.  "Not only is TPC committed to supporting Parkview in its community mission, but we also look forward to the insights that Parkview will add to our strategic discussions as we continue to work together and drive significant value for all Members."
About Parkview Medical Center
Founded in 1923, Parkview Medical Center in Pueblo, Colorado, offers general acute healthcare and behavioral health specialty services. As a private, non-profit organization, Parkview is licensed for 350 beds and provides a full range of healthcare services including the region's only certified and verified Level II Trauma Center as well as the region's first certified Stroke Center. Parkview Medical Center is the leader in cardiac, women's, emergency, and neurological services as well as behavioral health programs. As a vital healthcare source, Parkview's service area includes Pueblo County and 14 surrounding counties, which together represent 370,000 total lives. Parkview Medical Center is the largest non-government, nonprofit, private sector employer in Pueblo County with more than 3,000 employees and provides a skilled medical staff of over 370 physicians. The impact of our workforce triggers a strong impact on the community as Parkview's annual payroll contributes $155 million to the economy. For more information, visit www.parkviewmc.com.
About TPC
Based in Plano, Texas, TPC is a network of independent healthcare providers that work together as a single system to aggregate business volume and leverage economies of scale without sacrificing individual independence or local ownership. By working through a committed platform, TPC drives collaboration and innovation across a range of clinical, operational and economic areas enabling providers to maximize the financial and non-financial value they receive. TPC represents ten health systems in four states, totaling $1 billion in purchasing volume, and has achieved more than $230 million in documented savings since 2010. TPC exists for the sole purpose of helping community-based healthcare organizations remain strong and independent.  For more information, visit www.tpc1.com, or follow us on LinkedIn and Twitter.
Read more at tpc1.com
Latest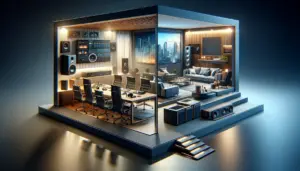 November 27, 2023
In this episode of "Pro AV Today," host Ben Thomas sits down with Audra Kinsley of Sonos Professional to unpack a topic that's causing (sound) waves in the audio industry: the fusion of commercial and residential audio systems. As we navigate through a landscape where consumer and professional audio worlds are increasingly intersecting, Sonos steps […]
Read More