Physicians' Compensation Remains Flat, Many Look to Revenue Cycle Management for a Revenue Boost
Is it possible to increase revenue when compensation is stagnant? The reality is that compensation across most specialties has remained flat, and physicians are expressing their frustration with this low-income satisfaction rates. Thus, if overall compensation isn't budging, then the only way to increase revenue is to reduce costs. This is possible with the right tools.
The State of Physician Compensation
According to a PracticeMatch survey, only 37% of those surveyed reported earning more in 2017 than in 2016. Their 2016 survey also revealed that 40% of doctors said they earned the same amount year over year. The 2017 survey saw only a few specialties receiving a boost to their salary–including emergency medical physicians and psychiatrists.
With almost one-third of the physicians surveyed still saddled with student loan debt, the lack of income growth has caused physicians to partner with recruiters to find the best positions. Other doctors are looking to the right tools to reduce costs to counter the lack of a compensation increase.

Flat Compensation Has Further Impact
For physicians that have their own practice, costs are a critical part of a steady revenue. To keep their practice afloat, doctors have to think about their business as a business and optimize spending. Thinking lean is vital to remaining solvent.
There are ways to boost your practice's income by embracing ways to be efficient. Here are some strategies to consider:
Ensure your staff is working to the fullest level of their license, thus practitioners shouldn't be spending their time on admin tasks. Instead, medical assistants should be taking on these tasks.
Add auxiliary staff to help with patient care, such as NPs and PAs.
End certain tasks that don't bring in enough revenue.
Have a full understanding of the business side of your practice, including metrics.
Use technology to your advantage.
Embrace discount value-based compensation.
Maximize Revenue with Healthcare Revenue Cycle Management
Consider revenue cycle management services for your practice to increase revenue. With this approach, you can recover more in collections, shrink claim denials, and other financial benefits. This is how it works:
It's an end-to-end system that begins with a patient seeking medical care from your practice.
Pre-registration is crucial to the maximizing revenue. This is the foundation for all future claims and payments.
After the patient's visit, the first claim submission occurs, which includes adding the right codes for each procedure.
Then it's time for payment from either private or government reimbursement. This isn't where the process ends. Your practice has to stay cognizant of what happens next, including denials, resubmissions, and collections.
The ultimate goal of healthcare revenue cycle management is to get you paid the full amount in the smallest amount of time. To best adhere to this strategy, find a partner that can alleviate the pain points of revenue cycle management. ChartLogic offers these services and delivers the kind of results you need.
With ChartLogic's help, staff workload associated with billing, collections, and coding is decreasing. The service operates on an all-inclusive fee-for-service model that charges a percentage of total collections while also providing the software sets in addition to the other services. Learn more today about our RCM solutions.
Latest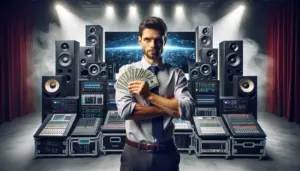 December 8, 2023
Mastering AV sales strategies in a global professional audio-visual (Pro AV) market, poised to reach $79.2 billion by 2028, requires much attention to detail. The surge in demand from corporate, government, and institutional sectors, driven by the need for enhanced productivity and efficient working environments, gives AV sales pros a lot of opportunity. In […]
Read More