Why Your Practice Should Be Embracing Digital Health
Long gone are the days of patients taking a passive role in their care—people want a more active role in their health and are using technology to get it. A new survey from Accenturefound that patients are increasingly eager to embrace forward-looking services and technology such as virtual visits, wearable health devices, and even artificial intelligence. With patients and digital technology rapidly becoming vital to current healthcare strategies, one message is clear: tomorrow's successful practices will embrace digital health today.
Patients Don't Want Digital Health, They Expect It
In just four years, the number of patients who use mobile apps to manage their healthcare needs has tripled. Furthermore, 44% of patients primarily use EHR portals to get information about their healthcare, including lab results, prescription history, and notes from their doctors. According to Kaveh Safavi, Accenture's Senior Managing Director and Head of Global Health Practice, this data clearly indicates that patients are demanding a better patient care experience, and fully realize that digital healthcare tools can achieve that goal.
"Driven by experiences outside of healthcare, consumers increasingly expect to use digital technologies to control when, where, and how they receive care services," stated Safavi.
The key word in this statement is expect. No longer is digital health a convenient bonus for patients. Rather, a lack of technology could potentially drive patients away.
Patients Believe Connected Health Yields Better Care
Transcend Insights recently found that 97% of patients believe that a doctor must have full access to their entire medical history in order to provide quality healthcare services. Furthermore, 93% of patients know that they receive better care when doctors can easily share medical information with one another.
One way that physician practices can assure their patients that they're receiving the best possible care is to implement EHRs. These systems provide access to a patient's medical records when needed, and boosts patient confidence in their healthcare providers.
Thomas J. Van Gilder, MD, JD, MPH, Chief Medical Officer and Vice President of Informatics and Analytics at Transcend Insights, said, "This survey shows us that patients see strong information sharing as an essential element of high-quality care. It's time that we live up to those expectations by giving care providers and health care systems the tools they need to stay connected around patient care."
EHRs aren't the only technology that contemporary patients demand. The same survey found that 71% of patients believe that if a doctor had access to the data from wearable technology, they would receive better care.
Patients are Willing to Switch Providers
These numbers represent more than just answers on a survey. American Well found that 20% of healthcare consumers are ready to switch primary healthcare providers in favor of telemedicine, a means to receive evaluations, diagnoses, and treatment plans via telecommunications technology. And surprisingly, parents are even more willing to use telemedicine with a full 74% of those polled agreeable to seeing their child's pediatrician online. But what does this mean for physician's offices? Practices that fail to incorporate telemedicine into their repertoire, could lose 20% or more of their pediatric patients. On the other hand, providing these services has the potential to retain and attract a larger patient base.
ChartLogic Can Help
ChartLogic knows that digital health technology is vital to the modern practice's success, and work with physicians and their teams to design systems geared towards each office's unique patient base and specialty. Learn more about how ChartLogic can help navigate the progressively digital medical world.
Read more at chartlogic.com
Latest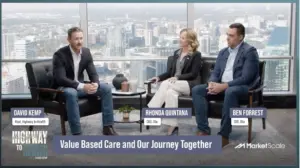 December 7, 2023
As of recent times, the healthcare industry has been progressively shifting towards value-based care, a model that emphasizes patient outcomes over the quantity of services delivered. This transition represents a significant shift that promises to enhance patient experiences and outcomes while controlling healthcare costs. With a growing emphasis on this approach, especially over the […]
Read More