A Recent Study Demonstrates the Need for CT Scans in Complex Ankle Fractures
CT scans were shown to be better at detecting fractures over plain radiographs, according to a recent study by the American Orthopedic Foot and Ankle Society (AOFAS).[1] The study set out to determine the effects of computed tomography (CT) on both the detection of fractures as well as its effects in changing a surgeon's overall operative plan.
Ankle fractures rank among the most common of injuries, with 150 out of 100,000 people experiencing a fracture every year. Of those injuries, up to half of them involve the posterior malleolus, a bone near the lower back of the tibia. Due to its position as well as its tendency to break irregularly, fractures in the posterior malleolus are particularly difficult for orthopedists to diagnose.[2] The AOFAS study noted that multiple past studies show that plain radiographs are unreliable for determining and diagnosing fractures. It remains imperative to have powerful imaging like CT in order to determine with complete confidence the presence ankle fractures of this kind as well as others.
The AOFAS study's methods focused on finding patients with record of ankle fractures treated both operatively and nonoperatively. Patients were drawn entirely from the registry of the study's home institution. Using this pool of more than three thousand patients, the study surveyed three orthopedic surgeons, asking them to determine if the radiograph of the fracture presented was complex or simple. Then, based on these scans, they asked these surgeons for their operative plan moving forward. In the study's second part, the same surgeons were presented with a randomized set of CT scans from the same patients, and they were asked the same set of questions. Those in charge of the study then compared changes in operative approach, operative indications, and positioning after the CT scan was reviewed.
The results showed that complex fractures were less likely to be identified using a radiograph as compared to a CT scan. The writers of the study made suggestions based on these results to use CT scans more regularly in the diagnosis of ankle fractures. These results and this conclusion are consistent with prior studies, which generally agree that CT scans are more accurate, and are therefore more useful for orthopedic surgeons.
When it comes to complex fractures and fractures in the problematic posterior malleolus, this study affirms that CT scans are more reliable for developing operative plans. If the annual occurrence of ankle fractures continues to be so common, it's important for orthopedic surgeons to take note of these results and adapt their methods.
To learn more about CT scanners that are ideal for orthopedic clients, click here.
[1] http://www.curvebeam.com/blog/a-recent-study-demonstrates-the-need-for-ct-scans-in-complex-ankle-fractures/#_ftn1
[2] https://www.verywell.com/posterior-malleolus-fractures-2549438
Latest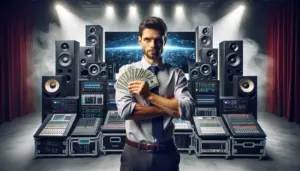 December 8, 2023
Mastering AV sales strategies in a global professional audio-visual (Pro AV) market, poised to reach $79.2 billion by 2028, requires much attention to detail. The surge in demand from corporate, government, and institutional sectors, driven by the need for enhanced productivity and efficient working environments, gives AV sales pros a lot of opportunity. In […]
Read More