Retaining Altruism in Healthcare is the Root of the Leadership in the Field
The charitable nature of healthcare systems are often overshadowed by their extensive operational intricacies. But Dr. Kevin Joseph's book, "Cracking the Healthcare Leadership Code: How Purpose, Humility, and Accessibility Can Transform Your Organization," emerges as a beacon of wisdom. It explores transformative power of compassionate and grounded leadership in healthcare, focusing on the core principles of purpose, humility, and accessibility. With the current landscape of global healthcare amidst unprecedented demands, the discussion around holistic and humane leadership is more important than ever as well as retaining the core essence of healthcare: altruism and healing.
How can healthcare leaders retain their sense of purpose and altruism in an industry often swathed in numbers, efficiency, and profit margins?
On the newest segment of "I Don't Care with Kevin Stevenson," host Kevin Stevenson interviewed Dr. Kevin Joseph, author, healthcare executive to dissect his book and explore the transformational trajectories it delineates for healthcare organizations. The dialogue covered the challenges and revelations encountered by healthcare professionals, and emphasized the amalgamation of ethical leadership and operational efficacy.
Stevenson and Dr. Joseph also talked about:
The intrinsic need for aligning individual values with organizational values to foster a harmonious work environment.

The importance of maintaining a strong sense of purpose and embracing the role of a caregiver, irrespective of the hierarchical position in healthcare organizations.

The significance of humility in healthcare leadership, promoting an environment where mistakes are seen as learning opportunities, fostering innovation and progress.
Dr. Kevin Joseph is a seasoned healthcare executive with an extensive background in medical sciences. His journey from being a newly minted physician to assuming the role of a healthcare executive illustrates his adaptability and leadership skills. Dr. Joseph has innovative approaches and transformative strategies in healthcare management. Much of his insights are shaped by experiences and commitment to creating meaningful change in the healthcare sector.
Article written by Alexandra Simon.
Latest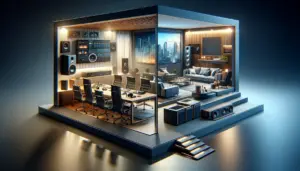 November 27, 2023
In this episode of "Pro AV Today," host Ben Thomas sits down with Audra Kinsley of Sonos Professional to unpack a topic that's causing (sound) waves in the audio industry: the fusion of commercial and residential audio systems. As we navigate through a landscape where consumer and professional audio worlds are increasingly intersecting, Sonos steps […]
Read More