Reviving Sacred Patient-Physician Relationship Post COVID and Preventing Physician Burnout
The emergence of the unexpected Covid-19 has thrown the world around us into turmoil.  One of the biggest demographics affected by the pandemic has been the consumers of healthcare services. They have been forced to self-educate and become more aware of where they get their services from. People are researching what services they choose and what physicians they consult. America has a great healthcare system, but increasingly there
is one casualty – and that's the physician.
Although with the advent of pandemic, the medical facilities have been amped up with exemplary services, yet the personal connection is hard to establish. Whereas local physicians within their expertise have much more access to the personal lives of their patients as they are considered to be a valuable part of the community. It is a well known fact that effective physician-patient communication can influence health outcomes by enhancing the patient's satisfaction, leading to greater understanding of their health problems and the treatments available. It also contributes to better adherence to treatment plans. But the burnout of local physicians is a alarming, some factors that can be accounted for it are:
● Private practices are being bought out by large healthcare systems and physicians who wanted to have their own practice are ending up being employees of hospital systems.
● Many senior physicians, in their 50s and 60s, are often retiring early or pursuing alternate/non-clinical careers due to burnout, taking experienced resources out of the healthcare system much too early.
● This is occurring because of decreased reimbursements, increased workload, and high overhead costs associated. There are several independent practices that are struggling to survive due to the logistical challenges.
Establishing a profitable private practice is getting increasingly harder. Regulations are reducing reimbursement from patient care services. Physicians need to maximize their marketing efforts to be discovered and be accessible to patients. They spend up to 2 hours a day on ancillary aspects of running their practice such as marketing, managing multiple vendors, documentation, staffing, reimbursements and so on – this distracts them from their core activity, which is patient care – and in several cases, leaves them overworked, causing less professional satisfaction which leads to burnout.
In an attempt to make healthcare affordable and accessible for patients as well as providing physicians a comprehensive AI based platform which is technologically advanced have come as a boon. Patients are provided guidance to choose the right type of care at the time they need the most. And strive to bring price transparency, ease of scheduling real time appointments, and find providers in the network. Patients fill out paperwork at the comfort of
their home.
The All-in-one marketplace to connect patients with providers can help bridge the gap.
Patients can search and get connected to the physicians of their choice either by telemedicine or in person and this can help the physicians to sustain their practice and avoid a burnout.
By Rahman Mohammed MD Emergency Medicine physician, CEO and Cofounder VivoDoc
Follow us on social media for the latest updates in B2B!
Twitter – @MarketScale
Facebook – facebook.com/marketscale
LinkedIn – linkedin.com/company/marketscale
Latest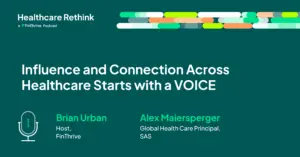 September 29, 2023
In the latest episode of the Healthcare Rethink podcast, presented by FinThrive, host Brian Urban sits down with Alex Maiersperger, the Global Principal Healthcare at SAS. Their conversation charts the role voice plays in influencing and connecting the healthcare industry. Maiersperger, who co-founded the Advancement League, shares his journey from being a healthcare optimist to […]
Read More