Software Advice Ranks ChartLogic as Top Front Runner for EMR Software
Software Advice, a leading resource for an enterprise to track and identify the best software across industries, recently identified the front-runners in the EMR software market. The FrontRunners analysis is a data-driven assessment identifying products that offer the best capability and value for small businesses. To be considered for the Electronic Medical RecordsFrontRunners quadrant, a software product needed a minimum of 20 user reviews, a minimum capability user rating score of 3.0 and a minimum value user rating score of 3.0.
Software Advice evaluates hundreds of products and only features 20-25 as FrontRunners.
As such, all products that qualify as FrontRunners are top performing products in their market. ChartLogic is extremely proud to be part of this distinguished list, receiving a score of 4.27 on a 1 – 5 scale for its Capability User Rating, and 4.20 for its Value User Rating. These impressive numbers are based on direct user reviews and reflect ChartLogic's commitment to ease-of-use for solo and small practices. ChartLogic was identified by Software Advice as a strong performing product that may be best suited for practices that need more specialized functionality.
Software Advice Ranks ChartLogic as a Top 4 Most User-Friendly EHR for Solo Practices
Most medical practices across the United States are now using electronic health record (EHR) systems, thanks in large part to EHR incentive programs. Because a single-doctor or small practice has to operate the EHR they've chosen with only a very small support staff, it is crucial that they implement an easy-to-use system. To help solo and small practices choose a system that delivers the benefits of an EHR without significant usability challenges, Software Advice compiled a list of user-friendly EMR systems in addition to its FrontRunners list. This ranking was calculated by including those EHR systems rated highest for their "ease of use" by actual EHR users on Software Advice's website.
With 4.5 stars, ChartLogic received the highest rating of any EHR on this short list.
ChartLogic EMR, the first complete ambulatory EHR in the marketplace to be certified for meaningful use, is a cloud-based product that also offers the option to be deployed on-premise. ChartLogic's capabilities include electronic charting, document management, e-prescriptions, coding tools and more. This EHR is good for solo practices, according to Software Advice, because it is integrated with proprietary voice recognition technology that allows physicians to dictate notes directly into the system. This can save time, and help physicians see more patients per day.
"Everything is pretty straightforward, and you do not have to keep clicking a bunch of keys to find what you need," said Odulia Sites, from the practice of Dr. Terry J. Sites, P.L.L.C. "This EHR meets our needs by providing everything for a patient's visit from start to finish. It's also capable of meeting our meaningful use requirements."
Don't take his word for it, see for yourself!
Read more at chartlogic.com
Latest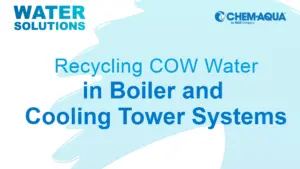 December 7, 2023
For the latest episode of ChemAqua's Water Solutions podcast, the focus was on an innovative approach to water conservation in the dairy industry. The show examined the potential of reusing Condensate of Whey (COW) water, a byproduct of dairy processing, and highlighted some of its economic and environmental benefits. Hosted by Dani Waddell, the informative […]
Read More