Special Delivery: UPS Dives Into Precision Logistics
Thanksgiving marks the beginning of the busiest retail week of the year. With the rise of e-commerce, shipping and logistics companies will be dealing with a deluge of orders.
Amidst that backdrop, United Parcel Service is rolling out a new initiative. In early 2020, the company will begin UPS Premier, which will bring precision logistics to high priority packages, specifically medical packages.
UPS will use sensors and data to track packages in real time to ensure that important deliveries are made on time, regardless of weather or extenuating circumstances.
Listen to the full episode of Business Casual here.
Latest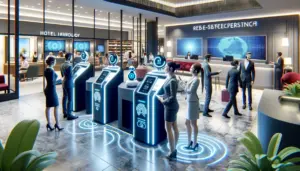 December 8, 2023
Facing critical staffing shortages, over 80% of hotels struggle to fill positions despite offering higher wages and flexible hours, as reported by a recent American Hotel & Lodging Association survey. While slightly improved since May 2022, this situation highlights a significant challenge in the hospitality industry, with housekeeping roles being the most urgently needed. […]
Read More