The Heart Walk is Back and is a Critical Event to Help the the American Heart Association
The challenges healthcare executives and administrators face are constantly changing. Host Kevin Stevenson talks with the heroes behind the heroes that are enabling hospitals, urgent care centers and telemedicine operators to spend their time tending to patients, while they handle the logistics.
It's Heart Walk season, and I Don't Care host Kevin Stevenson is the chair of the Waco Heart Walk, scheduled for November 6, 2021, at the Cameron Park Zoo
Stevenson welcomed two guests to talk about the importance of the Heart Walk and how it impacts the community—Michelle Stoddard, President, San Antonio Hospital Foundation, and Kayla Griffin, Corporate Market Development Director, American Heart Association (AHA).
Griffin shared her personal story and why she became involved with the AHA. "My son was diagnosed with hypoplastic heart syndrome, which meant he only had the right side of his heart. That's why I'm here today."
Griffin explained the condition and the five surgeries her son has undergone. His condition wasn't textbook, which meant he went through more surgeries than most. Griffin reported, "He's full of life, doing better than ever."
Griffin's advocacy and involvement with AHA is one that Stoddard shares. She described the mission behind heart walks, "It's an educational opportunity and raises funds for research. It allows the community to come tougher and participate in a healthy activity."
Stoddard also noted the support of Ascension Providence. "Along with being a top sponsor, this year, they're also funding 250 infant CPR kids that can save a child's life if they have a cardiac incident."
The event will also feature survivors, including a stroke victim whose wife recognized the signs, resulting in quick intervention.
There's still time to register for the event, Stoddard shared. She also shared upcoming events, including the Go Red for Women Movement. "It's coming up in March, and it's an important campaign because heart disease is the leading killer of women."
Latest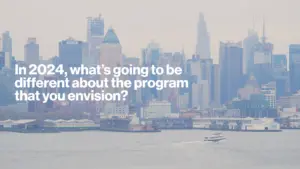 December 1, 2023
In the dynamic telecommunications landscape, Verizon's Partner Network continues to evolve, adapting to new trends and opportunities. For another segment featuring Mark Tina, VP of Indirect Channel Distribution and Channel Chief at Verizon Business Group, he explores exactly what types of significant changes and advancements the Verizon Partner Network will see in 2024. In this […]
Read More