TPC Cardiac Rhythm Management Initiative Saves Members Money and Improves Patient Outcomes
One of the main challenges for healthcare administrators is providing the best patient care possible while remaining profitable. They find themselves navigating ways to reduce costs and increase reimbursement, while simultaneously improving patient outcomes. Though the task can be daunting, many hospitals have found that strategic partnerships can provide the necessary support to help them achieve cost containment. TPC provides a platform that allows Members to work collaboratively to increase their financial, operational and clinical performance.  One key method is through product standardization. As an example, TPC Members have seen significant success through product standardization in the purchase of cardiac rhythm management (CRM) devices and related products. Let's take a closer look at how this program benefits healthcare organizations and patients.
The CRM contracting initiative engaged both TPC's Cardiology Clinical Value Analysis Team (Cardio CVAT) and Cardiology Physician Sub-Committee (Cardio PSC). Our Members' goal was to consolidate market share to a Member-selected vendor while also allowing, on an as-needed basis, access to other vendors currently in use. Prior to the initiative, Members were either on locally negotiated agreements or on national GPO agreements, with their collective spend in CRM spread across four separate vendors. This lack of aggregation created wide variations in product, price, and service across the membership.
When the Members decided to evaluate the opportunity in CRM, there were several challenges. First, many Members had pre-established relationships with vendors and felt they were being well serviced, making them reluctant to move market share to a new vendor. In addition, many physicians had brand loyalty to the products they used. This was, in large part, due to their depth of knowledge and comfort with the incumbent products. Finally, physicians were concerned about compliance requirements when contracting with a sole source supplier.
The CRM initiative was conceived as a Pre-Commit Program. TPC Members formally committed, prior to the launch of an initiative, to work together as a virtual system and move as a unit to the selected vendor upon the contract award. This commitment demonstrates to the marketplace, and to key stakeholders, the integrity of the TPC contracting process and the binding commitment the Members have to one another.
After a thorough evaluation by the Cardio CVAT and Cardio PSC, the Members selected a clinically acceptable product that provided the highest overall value, and thus consolidated their purchasing to one vendor. The result? Members have realized $3.45 million in total savings. As an added benefit, they achieved quality patient results via the innovative technology provided in the product selected. TPC Members have increased patient compliance to 97%, which has also led to increased reimbursement. This initiative was a success due to a high level of physician engagement, thought leadership, and peer discussion.
"When the CMR initiative was first brought to the Cardiology CVAT for consideration, there was much hesitation from the members – myself included. In the past, we had accomplished many successful initiatives, but none compared to this one. Working together alongside our physicians, we engaged in the evaluation process and made a selection we believed would provide the most value to the membership – and it has paid off significantly through the savings we have achieved. It is a true testament to what we can accomplish as a group when we put aside individual preferences and collaborate for the good of TPC as a whole," explained Lisa Green, Director of Cardiology Services at United Regional Health Care System.
By working through a collaborative and committed model, TPC provides the framework for independent, community-based hospitals to achieve system value through standardization. TPC benefits both hospitals and patients—and provides significant cost savings. Stronger Together. Superior Results.
Read more at tpc1.com
Latest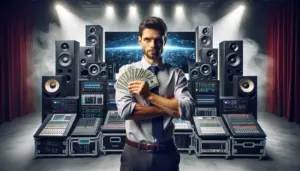 December 8, 2023
Mastering AV sales strategies in a global professional audio-visual (Pro AV) market, poised to reach $79.2 billion by 2028, requires much attention to detail. The surge in demand from corporate, government, and institutional sectors, driven by the need for enhanced productivity and efficient working environments, gives AV sales pros a lot of opportunity. In […]
Read More