TPC Membership Realizes 25% Savings in Phlebotomy Category
Essential in diagnosing patients, blood tests provide a wealth of information regarding a patient's health. But as the price for phlebotomy products continues to rise, hospitals are seeking ways to cut expenses in this vital category.
TPC provides the framework for independent, community-based hospitals to achieve system value through strategies that optimize operational, financial and clinical performance. Through the TPC platform, hospitals work collaboratively in key areas to achieve exponentially more together.
As such, TPC's Laboratory Clinical Value Analysis Team (CVAT) engaged the lab directors from each of its Member hospitals in order to evaluate the shifting phlebotomy marketplace and explore savings opportunities. Click to watch this enlightening video to learn how Member collaboration and commitment enabled an incredible $580K in phlebotomy category savings across the entire TPC membership.
TPC Phlebotomy Program Video Transcript
Costs are increasing for phlebotomy products.
To help mitigate increases, TPC's Laboratory Clinical Value Analysis Team (CVAT) engaged the lab directors from each Member hospital.
The goal: to evaluate the shifting marketplace and explore savings opportunities.
The new initiative began with an aggregated spend of $2.27M across the membership.
However, there were challenges in achieving the maximum value possible…
each Member was using different products,

confirming clinical acceptability of each supplier's products,

overcoming product preference and a resistance to change.
In addition, there were limited resources available at each Member hospital to trial new products. Within the Lab CVAT, two Member hospitals offered to trial products on behalf of the entire group. After confirming clinical acceptability, the remaining Members approved the product reviews and selected the supplier partnership that provided the highest value.
The results are incredible – a $580K, 25% savings!
Through collaboration and commitment, TPC Members pursued an alternative option, resulting in significant savings without sacrificing patient care.
Latest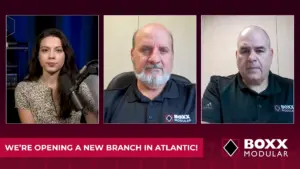 December 4, 2023
In an era where construction innovation is reshaping the industry, modular construction's growth continues to rise. In this episode of Built Modular, Boxx Modular's strategic expansion into Moncton, Atlantic Canada takes center stage. Host Gabrielle Bejarano welcomes Charles Landry and Ray Girouard to explore the implications of this venture. Bejarano, Landry, and Girouard discuss […]
Read More