TPC's CDI Program Selects Paramount Health Solutions as a Strategic Partner to Implement DRG Validation for Member Hospitals
Franklin, Tenn.  – Paramount Health Solutions (PHS), a provider of healthcare revenue cycle management services, has been selected by TPC, a network of 11 independent health systems in four states with over $1B in purchasing volume, to be the coding compliance resource for all TPC members.
Implementation of the new affiliation between TPC and PHS began in May 2020 and will be completed for the majority of TPC members by the end of the year.
Recent studies estimate that hospitals lose an average of one to five percent of net patient revenue capture annually, which can translate to $5 to $11 million for the typical 250-bed hospital from coding and billing errors.
"In today's challenging environment we want to help our members remain financially viable," said Cody Waldrop, TPC Vice President of Revenue Cycle. "TPC's CDI program, in conjunction with our partnership with Paramount, offers a service that has demonstrated tangible results for our members' bottom lines."
"Today, hospitals and healthcare systems are facing challenges with millions in revenue on the line  from factors that include the COVID-19 pandemic, coding and clinical documentation guideline changes that require a higher level of specificity, value-based care models designed by CMS, and increases in audits and denials by payors," said Bilal Mushtaq, M.D., co-founder, and chief operations officer for Paramount Health Solutions. "PHS addresses these challenges for our hospital clients by means of a laser-focused review of clinical documents from our expert physician CDI/DRGV (Clinical Documentation Improvement/Diagnostic Related Group Validation) specialists. Our team is trained to work with our clients' physicians and coding staff and to use the latest best practice standards to identify gaps in revenue, which we look to resolve. The result for our clients is a more accurate picture of services provided, increased levels of reimbursement and fewer denials."
Dr. Mushtaq said the PHS approach is to offer partnerships based on trust, transparency, customized solutions, and superior customer service.
"TPC's CDI Council engages CDI representatives from each of our member hospitals who work together to evaluate best practices and identify opportunities for improvement," said Airaj Waheed, M.D., TPC Director of Documentation and Coding.  "Our members' trust is achieved through credibility of experience, knowledge, and skills. Paramount's status as a physician-led company helps to open doors not only with hospital staff and leadership, but also with physicians.  And with all stakeholders involved, we are better positioned to be more successful."
About TPC
Based in Plano, Texas, TPC is a network of independent healthcare providers that work together as a single system to aggregate business volume and leverage economies of scale without sacrificing individual independence or local ownership. By working through a committed platform, TPC drives collaboration and innovation across a range of clinical, operational and economic areas enabling providers to maximize the financial and non-financial value they receive. TPC represents 11 health systems in four states, totaling $1 billion in purchasing volume, and has achieved more than $300 million in documented savings since 2010. TPC exists for the sole purpose of helping community-based healthcare organizations remain strong and independent. For more information, visit www.tpc1.com, or follow them on LinkedIn and Twitter.

About PHS
Paramount Health Solutions, based in Franklin, Tenn., delivers DRG Validation, Clinical Documentation Improvement, Denials Management and education programs for hospitals and post-acute providers. PHS' team of physicians, healthcare providers and expert coding auditors work together with hospital staff to capture accurate and appropriate revenue, ensuring compliance and reducing denials. For more information go to www.paramounthealthsolutions.com, or follow them on LinkedIn.
Latest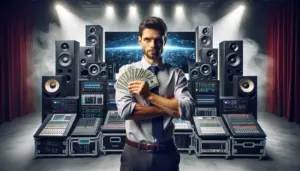 December 8, 2023
Mastering AV sales strategies in a global professional audio-visual (Pro AV) market, poised to reach $79.2 billion by 2028, requires much attention to detail. The surge in demand from corporate, government, and institutional sectors, driven by the need for enhanced productivity and efficient working environments, gives AV sales pros a lot of opportunity. In […]
Read More