Trends We Expect to See in the Home Health Technology Space in 2023
As we bid farewell to 2022, it becomes evident that there are no emerging industry trends in the healthcare landscape. Instead, providers are dedicating themselves to an important task: educating themselves on cost reduction strategies. The Centers for Medicare and Medicaid Services (CMS) have made it clear that value-based care is the future, and it is here to stay. Looking ahead to 2023, we can anticipate a continued focus on this aspect, with providers becoming more strategic in response to ongoing trends.
In the coming year, we can expect to witness providers exploring innovative ways to strategically implement technology and integrate various virtual care solutions. The objective is not merely to amplify revenue but to find effective ways to offset costs while ensuring efficiency. Providers understand the need to adapt and make the most of technological advancements to optimize their operations and enhance patient care.
By embracing technology and harnessing its power, healthcare providers aim to achieve a delicate balance between quality care and cost-effectiveness. They seek to identify solutions that streamline processes, improve patient outcomes, and maximize efficiency. The goal is to leverage technology as a strategic tool to navigate the evolving healthcare landscape successfully.
As 2023 unfolds, providers will actively explore avenues to incorporate technology, such as telemedicine, remote patient monitoring, and data analytics, into their practices. These tools will serve as catalysts in their pursuit of cost reduction and operational optimization. By strategically embracing technological advancements, providers can not only thrive within the value-based care framework but also deliver high-quality care while maintaining financial stability.
Latest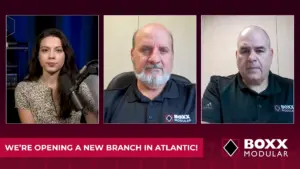 December 4, 2023
In an era where construction innovation is reshaping the industry, modular construction's growth continues to rise. In this episode of Built Modular, Boxx Modular's strategic expansion into Moncton, Atlantic Canada takes center stage. Host Gabrielle Bejarano welcomes Charles Landry and Ray Girouard to explore the implications of this venture. Bejarano, Landry, and Girouard discuss […]
Read More