Revolutionary Advancements in Hypertension Treatment: Zilebesiran Redefines the Landscape
Assistant Professor of Epidemiology for the Mayo Clinic College of Medicine at Mayo Clinic, Jose Medina-Inojosa MD MSc, breaks down the groundbreaking innovation in hypertension treatment with the introduction of Zilebesiran. Published in the prestigious New England Journal of Medicine, this study has ignited excitement in the medical community, offering new hope for the millions affected by hypertension, the notorious "silent killer."
Developed by Alnylam, Zilebesiran is a novel drug that harnesses the power of mRNA technology to target blood pressure regulation pathways, presenting a potential game-changer in the management of hypertension.
One of the most promising aspects of Zilebesiran lies in its convenience. Unlike traditional treatments that often require daily medication, this revolutionary drug is administered through injections at regular intervals, approximately every six months. This streamlined approach has the potential to transform hypertension management, overcoming a significant challenge in the field—patient compliance.
Throughout the study, participants who received Zilebesiran injections reported minimal side effects, with only mild discomfort at the injection site. Importantly, there were no significant adverse effects observed on kidney function, addressing a critical concern associated with conventional hypertension medications.
The study's findings revealed encouraging results, with certain participants experiencing an impressive 10-millimeter drop in blood pressure when administered 200 milligrams of Zilebesiran every six months. For others receiving a higher dosage of 800 milligrams, the reduction in blood pressure was even more remarkable, at 20 millimeters of mercury over the 24-week period.
The potential impact of Zilebesiran on the pharmaceutical industry cannot be overstated. Should further research and clinical trials confirm the drug's efficacy and safety, it has the potential to disrupt the market for traditional hypertension medications. The simplicity of only two injections per year, in contrast to daily pills, may significantly improve patient compliance and adherence to treatment plans, ultimately leading to better health outcomes, reducing the risk of strokes, heart attacks, and other cardiovascular events associated with uncontrolled hypertension.
Industry experts eagerly anticipate that Zilebesiran's success will spur more research into mRNA-based treatments for other medical conditions, expanding the horizons of personalized and targeted therapies.
As Zilebesiran takes center stage, the medical industry eagerly awaits further data and trials to establish its long-term safety, efficacy, and potential to transform hypertension treatment. If all goes as hoped, Zilebesiran could become a turning point in the battle against hypertension, saving countless lives and heralding a new era of innovative treatments for cardiovascular health.
Dr. Medina-Inojosa's Thoughts:
"I am genuinely excited about the results of this study on Zilebesiran. The innovative use of mRNA technology to regulate blood pressure represents a significant breakthrough in hypertension treatment. The convenience of injectable doses every six months may greatly improve patient compliance and, ultimately, lead to better outcomes. With further research, we hope to establish the ideal dosage and ensure the drug's safety and efficacy in preventing cardiovascular events. Zilebesiran has the potential to revolutionize hypertension management and significantly improve the lives of millions affected by this condition."
Latest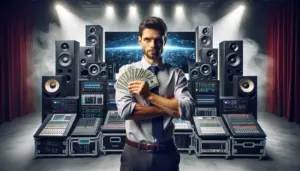 December 8, 2023
Mastering AV sales strategies in a global professional audio-visual (Pro AV) market, poised to reach $79.2 billion by 2028, requires much attention to detail. The surge in demand from corporate, government, and institutional sectors, driven by the need for enhanced productivity and efficient working environments, gives AV sales pros a lot of opportunity. In […]
Read More