A Historic Marina Reopens After A Major Renovation
On November 1, 2021, Palm Beach opened its newly renovated Town Marina. Say Yes to Travel host Sarah Dandashy chatted with Assistant Town Manager Carolyn Stone and dockmaster Mike Horn to explore this exciting project.
The dock, originally from the 1940s, was at the end of its life. As the only public marina on the island, rebuilding was a process. Stone said, "We really started from scratch, and my role, which includes oversight for revenue that's not tax dollars, was to oversee the project."
Horn, who has been with the city for eight years, echoed that the old docks were beyond repair. "We ripped it down and started over, upgrading everything."
The marina's history is rich, and since the town owns it, residents had input on the project, which also meant it took a bit longer. "We are a boating community, and most of those with slips are residents for at least part of the year," Stone added.
The new marina delivers an upgrade in most every way. Horn said, "We now have adequate shore power, which we didn't have in the old facility. We have floating docks and can accommodate boats up to 296 feet. It's a well thought out design with Wi-Fi, wastewater removal, and utility pads."
While the process to get to the construction was lengthy, it started in May 2020 during the pandemic. "There were lots of questions around construction in the pandemic, but we started on time. Weather was also a factor, as were concerns about the economy," Stone noted.
The project kept moving, and they're glad it did, considering it seems to be an impressive and successful project already, as Horn reported they already have 86% occupancy.
About Say Yes To Travel:
Driven by consumer desires for new experiences, innovative technologies and environmental impacts – travel is changing. Host Sarah Dandashy explores the technologies and logistics that power travel and the brands that build unforgettable experiences.
More Stories Like This:
Latest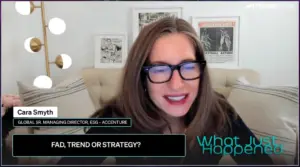 November 30, 2023
The world is in an era where sustainability and responsible retail business practices are increasingly crucial. For the latest episode of "What Just Happened," host Christine Russo further explored the hows and whys of this pressing issue by interviewing Cara Smyth, Global Senior Managing Director for ESG and Responsible Retail at Accenture, and Chair […]
Read More