A New Method of Onboarding Guests to a Hotel Wi-Fi Network
In today's highly-connected world, fast, secure hotel Wi-Fi is not a luxury; it's an absolute necessity. Whether vacationers want to power their phones and tablets to play games and watch videos, or business people need to quickly download files and videoconference, Wi-Fi can make or break their stay. Unfortunately, the Wi-Fi offered by too many hotels is unreliable, unsecured, and unimpressive. The good news is Samsung and RG Nets are doing some groundbreaking work on authorized networks that allow users to gain access to Wi-Fi without going through a series of cumbersome steps to pass security measures. Let's take a closer look at a new, more effective method of onboarding guests to a hotel Wi-Fi network.
THE CURRENT STATE OF AFFAIRS IN HOTEL HOSPITALITY
A Service Set Identifier (SSID) is the primary name associated with an 802.11 wireless local area network (WLAN). A hotel, for example, might use a name like guestnetwork, to identify the SSID for their guests. On a typical Wi-Fi network, a broadband router or broadband modem stores the SSID but allows administrators to change it. Routers can broadcast this name to help wireless clients find the network and join their devices to it.
The issue is this SSID is open to anyone and everyone who knows its name. As more users connect, the performance of the system may suffer. Poor Wi-Fi performance means staff must spend their valuable time resolving wireless problems and may lead guests to leave negative ratings on hotel review sites. Some facilities address this issue by creating an extensive onboarding process where users must go through a series of authentication steps. Too often, however, this only serves to frustrate guests without sufficiently protecting the network from unauthorized access.
A BETTER ONBOARDING EXPERIENCE
Captive portals are the typical method for authenticating and onboarding guests to a hotel Wi-Fi network. To provide a better approach, Samsung and RG Nets have introduced 802.1X enterprise authentication with Property Management System (PMS) integration. This groundbreaking approach is designed to deliver a simpler onboarding experience than has ever been available before, giving guests a more secure connection without all the hassle.
THE SAMSUNG SOLUTION
The Samsung 802.1X PMS Solution uses over-the-air encryption with a unique cryptographic key for each and every device on the network. This ensures unauthorized users never gain network access, monopolizing resources. It also keeps unwanted people off the network at the physical layer, deterring cyberattack. This innovative solution ensures efficient utilization of infrastructure resources and licensing. An optional captive portal may be enabled outside of the authentication path for advertising or to provide helpful information.
With the Samsung 802.1X PMS Solution, onboarding is simple. The client prompts guests for their username and password. After the user types in his or her last name and room number, they are given billing options. The Samsung 802.1X PMS Solution works with all major PMS systems, including Opera FIAS, HTNG, Galaxy, Agilisys, and Marriott.
TURN TO SAMSUNG FOR A BETTER ONBOARDING EXPERIENCE
Enterprise Encrypted SSID 802.1X authentication with PMS integration makes onboarding easier for guests. Hotel owners will not only keep their network secure, but they will also receive praise from their guests for providing more secure networks that are easy to use.
Samsung fuses experience and innovation to provide better connectivity with commercial Wi-Fi that works more like a cellular network in handover, traffic scheduling, and security. You won't even know we're there. And that's a good thing.
Read more at samsung-networks.com
Latest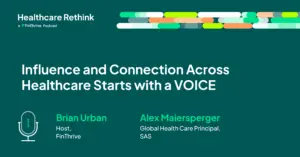 September 29, 2023
In the latest episode of the Healthcare Rethink podcast, presented by FinThrive, host Brian Urban sits down with Alex Maiersperger, the Global Principal Healthcare at SAS. Their conversation charts the role voice plays in influencing and connecting the healthcare industry. Maiersperger, who co-founded the Advancement League, shares his journey from being a healthcare optimist to […]
Read More