As Coronavirus Spreads, Travel Takes a Pause: Say Yes To Travel
In this week's episode of "Say Yes to Travel," host Sarah Dandashy talks about the coronavirus and its staggering impact on travel. Viruses and infectious are nothing new, and we've seen before other illnesses impact tourism, including SARS.
However, coronavirus is somewhat unique. While it's not been as deadly as SARS, it's much more contagious and has spread rapidly in a short period of time from first recorded cases in Wuhan, China. Its quick expansion has put a damper on what was shaping up to be a huge travel year.
So, what should travelers know? First, there are some best practices you should always consider when traveling like proper handwashing, sanitizing common areas on airplanes, and covering your mouth and nose if coughing or sneezing. This behavior can keep you safe from all kinds of germs or from spreading them yourself.
If you have plans to travel to China or other parts of Asia, you will likely have to reschedule, as many airlines have grounded flights, and hotels are allowing customers to cancel without penalty. Having travel insurance for such this kind of emergency is never a bad idea.
With travel halted to and from China, the global travel economy is taking a huge hit. Chinese travelers represent the fourth largest market for outbound travel, spending $275 billion in 2019. That means that destinations across the world will see a hit to their bottom line.
The best-case scenario is that things are contained, and travel bans are lifted. Be sure to keep an eye on the news from the World Health Organization. Become part of the discussion by listening to the podcast and sharing feedback or stories about the virus' impact on travel.
Latest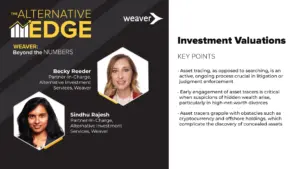 December 4, 2023
In this episode of The Alternative Edge, a Weaver: Beyond the Numbers Podcast, host Becky Reeder, an audit partner and co-leader of the alternative investments practice at Weaver, engages with Sindhu Rajesh, an Alternative Investment Services Partner with Weaver. They unpack the complexities of venture fund valuations, offering critical insights into industry dynamics and best […]
Read More