Bouncing Back: The Remaining Obstacles to a Full Travel Rebound
More than two years after the world shut down unnecessary travel, the hospitality industry is getting back to normal. Sarah Dandashy reflects on the latest trends in tourism around the US and beyond. With increased routes offered by airlines, lifted restrictions, and a vaccinated world, hospitality is bouncing back. Travelers are opting for more travel insurance to protect their itineraries.
"Travel insurance and international travel searches are at an all-time high," said Dandashy. Both globally and in the US, the travel insurance industry is growing. Allied Market Research reported the global travel insurance market value at $12.38 billion in 2020. Allied projects will reach $119.31 billion by 2030, growing at a CAGR of 26.1% from 2021 to 2030.
Hand in hand with increasing insurance, the US should anticipate more tourists this year. The  NY Times projects that travel and tourism in the United States will reach pre-pandemic levels in 2022, contributing nearly $2 trillion to the U.S. economy. Around the world, "destinations that have long been closed to most travelers, including Australia, the Philippines, and Bali, have started reopening," reports the NY Times. Countries are lifting restrictions and allowing tourism to flow more freely again, and research consistently shows that tourism is expected to reach pre-pandemic levels.
"The Philippines are the number one travel destination that people are looking to go to this year," said Dandashy. DevDiscourse reported that since April 1 this year, the Philippines has welcomed fully-vaccinated tourists from all countries, with no test upon arrival or quarantine. DevDiscourse projects tourism in the Philippines to grow annually by 6.7 percent in the next ten years.
Variants may derail plans, but tourists protect their travel with covid specific insurance coverage. The NY Times article also shared insights into airline trends. Airlines are reopening routes and announcing new ones. Flexibility will help sustain travel across and outside of the US.
"In these final steps of letting things get back to normal [to] have a full recovery of the travel industry," said Dandashy. The hospitality and tourism industries finally feel relief after two years of stalled growth and restrictions. Pack your bags, plan your next trip, and protect your itinerary – the world is ready for it!
Latest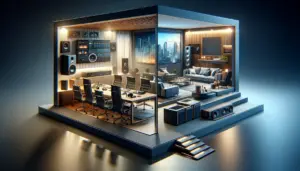 November 27, 2023
In this episode of "Pro AV Today," host Ben Thomas sits down with Audra Kinsley of Sonos Professional to unpack a topic that's causing (sound) waves in the audio industry: the fusion of commercial and residential audio systems. As we navigate through a landscape where consumer and professional audio worlds are increasingly intersecting, Sonos steps […]
Read More