Can the Mocktail Movement Meet Consumer's Alcohol-Free Needs?
The holiday months are filled with indulgent food and drink, spurring the "Dry January" event, which has become a movement many partake in with the dawning of the New Year. In 2021, NIelsonIQ found that 22 percent of U.S. consumers stated they were decreasing their alcohol intake, and non-alcoholic beverage sales were up 19 percent in the first two weeks of January 2022. Consumers are curious and exploring the possibility of eliminating alcohol through the Sober Curious Movement, coined by Ruby Warrington in 2018; this movement encourages people to eliminate alcohol for 100 days. But people still want the "cocktail" beverage, without the alcohol, and companies like Ghia are now offering an alcohol-free "mocktail" experience.
Why are mocktails suddenly all the rage? Well, people aren't liking the classic, alternative sugar-laden drinks that are often offered and want to see cleaner options with high quality ingredients. The mocktail market is made of the following three categories: functional beverages with a physical effect, analog drinks, and non-buzzer mixers.
Is the mocktail movement here to stay? Hospitality expert Glenn Haussman, host of the No Vacancy podcast and president of Rouse Media, explains why the mocktail movement has gained such traction and how the hospitality industry can adapt to partake in the movement.
"I think that cocktail culture over the last 15 years has really set the stage for the creative proficiency that's kickstarting the mocktail movement. Now, collectively, we've seen the rise of exotic ingredients, ever-increasingly complex recipes, and also learned the rationale behind which of 476 different types of ice cubes is right for this specific drink right now under these weather conditions. So it's no surprise that as society shifts to embracing healthier lifestyles, so would its drinks, right?
Sober curious and its cousin Dry January are really two strong signals that people are moving away from alcohol. Well, at least not drinking as much of it, right? And hoteliers must do the same. We all have that one friend that's maybe not drinking, but is interested in having exotic kind of drinks, different combinations of flavors. We all love that. We eat with a lot of flavor. We drink with a lot of flavor. The alcohol is almost an afterthought for many people. So when it comes to defining a strong F& B offering, a mocktail's program is a serious strategy that puts you at the forefront of hospitality innovation while protecting and perhaps increasing your customer base."
Latest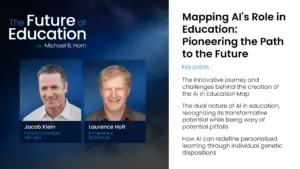 October 2, 2023
Mapping AI's role in education should be a critical step in bringing together innovative technology-based solutions with the expertise of human educators. With rapid advancements in artificial intelligence and an increased reliance on technology-driven educational solutions, the education landscape is on the brink of a significant transformation. AI promises highly personalized learning experiences, efficient administrative […]
Read More