Hospitality Lessons from the Discover Qatar Digital Kiosk Launch
The digitization and contactless era from COVID is not going anywhere; it is here to stay, and a digital kiosk is just one part of that. Kiosks are being used across a variety of industries, including hospitality, entertainment, sports, retail, and groceries. In fact, a recent study by Zion Market Research revealed that the global contactless payment terminals market is expected to grow 21.2 percent between 2021 and 2028.
Where exactly are contactless solutions such as a digital kiosk implemented? The sports and travel industries are a prime example. Discover Qatar has established digital kiosks in the Cultural Village, at concierge desks at Barwa Madinata, and at 12 hotels to assist with guests booking tours and services during the FIFA World Cup.
What do these digital kiosks help customers and businesses accomplish? Will there still be a need for human interaction in the hospitality, retail, grocery, and sports and entertainment industries, or will kiosks cut that out? Jeff Aguiar, VP of Business Development and Partnerships at Aavgo, provides some thoughts on just how kiosks will benefit a variety of business sectors.
Jeff's Thoughts
"It's not surprising that more than a dozen kiosks were installed in and around the FIFA World Cup in Qatar to assist fans and visitors navigate the game's venue book transportation in tourists. When you consider that during covid, people realize the importance and need for contactless service, and that that urgency for contactless solutions are expected to grow, even post pandemic.
As a matter of fact, a recent study examining the rapid adoption and acceptance of kiosks, concluded that market growth will continue at a rate of 5.5% from 2021 to 2028. The truth is, is that people have adjusted to the new norm and appreciate efforts that businesses from across industries are making to enhance the customer experience.
Many retail outlets are offering self-checkout kiosks to customers for faster processing of in-store purchases. These kiosks help streamline customer payment and check out more quickly, thereby eliminating long lines in retail stores. Similarly, the hospitality industry is in, uh, is embracing kiosk technology to assist their guests during their journey.
One such solution is the Aavgo 360, which is a human assisted kiosk, which bridges the gap between technology and in-person front desk agent. The kiosk offers guests a contactless check-in experience while still providing a personalized human interaction.
With the current labor shortages and rising labor costs, hoteliers are finding new ways to streamline their operations by deploying a human assisted front desk kiosk and equipping their existing staff with the necessary skills to perform tasks outside of their day-to-day job functions. Hoteliers are equipped to handle the near-term post covid projected travel growth.
However, this projected growth is still expected to be 46 billion below where it should have been in 2022, should the pandemic not have happened. With Aavgo 360 kiosk, hoteliers now have the tools that will allow their existing staff to lend a hand in other departments during any downtime they may have.
What's exciting about all of this technology? Is technology is constantly evolving. Even though touchscreens are utilized today, it won't be long before we see other sensors being utilized. Just like a touch of a fingertip today, future kiosk will couple digital and physical worlds and provide a hybrid service.
It's a very exciting time to be involved in this type of technology."
Article written by Cara Schildmeyer
Latest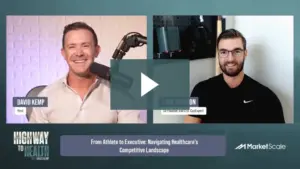 September 28, 2023
Navigating healthcare's competitive landscape requires innovative solutions addressing care quality and affordability. CapExpert is a game-changer in outpatient healthcare. It enhances asset management, ensuring the best care for patients. Luke Johnson, Co-Founder and CEO of CapExpert, spoke with Highway to Health's David Kemp on how CapExpert enhances asset management, bridging visibility gaps and streamlining […]
Read More