CDC Guidelines "Really Not Workable" According to Carnival CEO
U.S. cruises could resume by mid-summer with restrictions, the Centers for Disease Control and Prevention said. Carnival Chief Executive Officer Arnold Donald said the agency's restrictions were "not workable," and that the company considered setting its ships to sail from outside the U.S. Donald spoke with Bloomberg's Carol Massar.
Donald: The CDC, I think, last October issued a conditional sail order and they came out in phases, the first phase was bringing ships back into us waters and it was primarily with minimal crew on board. We finished that phase of it in terms of having ourselves, 30 ships that are currently in green status. They issued on April 2nd, the next phase. And frankly, what has been issued doesn't give us a specific time to be able to return and also is really not workable in the current form. But again, it just came out. And we have an opportunity to discuss with the CDC and the administration to make sure that we do have something that's workable and hopefully that will allow us to be able to sail in July.
We're hoping it will be something that's more in line with the advancements of vaccines that's occurred and the rapid advancement of the vaccines that the administration has been so successful with, as well as the advancement in treatments and the investments, the rapid testing, none of which existed when the original conditional sail order was written. So we're hopeful that we'll be able to meet with the administration and CDC and come up with something that's practical and will allow people to return to their choice of vacation travel and get a whole lot of Americans back to work. As you know half million people were impacted in the US in terms of jobs associated with the cruise industry outside of the cruise companies themselves.
Host: It affects a lot of other jobs and other industries connected with the cruise industry. One thing I got to ask you, Arnold, is how much of Carnival threatening to relocate their ships to other markets outside the United states, do you think was the reason for the CDC change? Because it was just a few days ago that they came out, you know, and we're still kind of holding firm what happened? What were the conversations that maybe you, you and other members of the cruise line industry had with the CDC?
Donald: There was no threat or anything, it's just a practical reality that if we're not able to sail from the US sometime soon, we would have to sail from elsewhere. And so some of the ships, what homeport in a number of companies have already announced home 40 ships that normally would have been selling out of the US home ported from different places in the Caribbean. But it's not a threat or anything. It's just a natural outcome of not being able to sail, you know, from the US. I'm not sure anything has changed. Perhaps it has. I haven't heard directly from the CDC or the administration anything has changed. I think that they genuinely believe the information they put out might allow some limited sailing as early as July. And so we'll have to discuss that with them. You know, our timelines don't quite match up with that, but maybe we don't understand everything.
The CDC has a job to do. They're trying to do their job. I think as long as we work together with the CDC and the administration, we can all get crews, you know, back soon. And we can have all those half a million workers no longer suffer from not being able to earn a wage.
—
*Bloomberg contributed to this content
Follow us on social media for the latest updates in B2B!
Twitter – @MarketScale
Facebook – facebook.com/marketscale
LinkedIn – linkedin.com/company/marketscale
Latest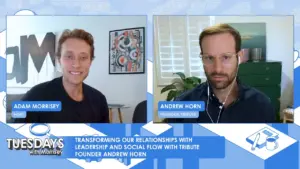 November 28, 2023
Can relationships be transformed through leadership and social flow? Navigating the intricate web of digital relationships can be a tricky proposition. Tuesdays with Morrisey's Adam Morrisey uncovers the transformative impact of emotional recognition in the workplace with Andrew Horn, the mastermind behind Tribute. This podcast edition unravels the story of a platform redefining how […]
Read More