Concierges Around the World: Los Angeles Concierge Association
Typically, summer months bring lots of travelers to the sunny shores of California. 2020's guest list looks slightly different, as the coronavirus continues to be a global health crisis. Concierge Timothy DeRodeff, who is also vice president of the Los Angeles Concierge Association, shares his story about the shutdown and getting back to work.
After 10 years in the hospitality industry and six as a concierge, DeRodeff explained just how serious this has been for the vertical. "It was very scary in the beginning. Now, we have a little bit more information. I was initially laid off by my property. They continued to pay us for a while and our health benefits. For three months, I sheltered in place with my family. I invested in myself by reading, exercise, and spending time with my family," he said.
The hotel where he served as a concierge did completely shut down to the public for about three months. Now, they've reopened. The space looks a little different now, and the pace is slower. "I'm finding a new rhythm. I enjoy having a routine again, although it's been a crazy schedule. With limited staff, I've been here almost every day," DeRodeff said.
To get back to work also meant new procedures. "We had an orientation before reopening to go over the new protocols to keep guests and us safe," he commented.
They are also focused on ensuring the guest experience remains positive. "We send them a welcome letter a few days before check-in with the guidelines of the hotel. We're also doing things like time slots for the fitness center. Most people are very understanding. They are excited to get out and be on the beach," DeRodeff stated.
Travel has always been an escape for travelers. Even with limitations, people still want to have a positive experience. The hospitality industry is working hard to ensure safety and enjoyment.
Latest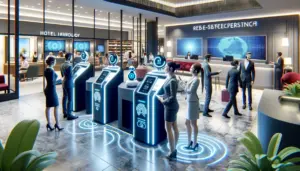 December 8, 2023
Facing critical staffing shortages, over 80% of hotels struggle to fill positions despite offering higher wages and flexible hours, as reported by a recent American Hotel & Lodging Association survey. While slightly improved since May 2022, this situation highlights a significant challenge in the hospitality industry, with housekeeping roles being the most urgently needed. […]
Read More