Concierges Around the World: The Mandarin Oriental in Barcelona
Spain, as we have seen, was one of the countries that was hit the hardest from the pandemic. In today's episode, Sarah chatted with a concierge friend Klaus Heldt. Klaus is the Concierge Supervisor at the Mandarin Oriental in Barcelona. This hotel is stunning. And only 120 rooms, it was at one point the most expensive hotels in all of Spain.
Powered by RedCircle
As the pandemic hit, it took many by surprise.
"Friday, March 13th I worked. And by the end of the weekend, the hotel was closed and I was asked to not come back."
Measures were strict from the start. No one was allowed to leave their homes unless it was to go grocery shopping or go to a doctors visit. Fast forward a few months, it has become clear that those strict measures helped as the number sin Spain have dramatically gotten better.
Although the hotel was closed, and Klaus was instantly removed from a normal schedule, he chose to focus on things that he could focus on. He made a program for himself where he concentrated on things he always wanted to do, but never had time to do. From yoga to piano courses to learning German, he found it gave him structure.
In Spain, their unemployment is structure that they get paid 70% of their salary. The Mandarin made a generous move and added an additional 10% to his unemployment pay. So in total, different hospitality workers were compensated 80% of their salary (before tips).
The country has also chose to take their time in reopening. With Spanish borders opening at the end of June, and the rest of the country opening in phases, the Spanish government recognized that reopening should be done cautiously. Of course the Spanish people–just like in the US–are ready to move on and get back to life as usual.
Some hotels are starting to open back up, but as the Mandarin has such a huge international clientele, they do not plan to fully open until September or so. Prior to that they will open their terrace on July 15th. Of course, there is so much that is uncertain, that things may change.
With recovery of the industry taking all forms and durations, for those of us in the industry, we often ask, how can we stay relevant. Klaus shared a few pieces of advice:
"We have to remember, in a large company, we are just a number." On one hand, decisions are not personal. But on another hand, this is a great time for reassessing how much one wants to keep their job. If you want to go back to work soon, you have to prove your value to your property. He suggested taking the initiative to research and learn while being away from the hotel. Once a hotel is ready to have employees back, the best way to provide value is to stay informed, solidify your contacts, and actively provide a sense of security for guests.
He believes local and leisure travelers will be the first to lead the way in travel recovery–a sentiment shared by many others. This will also be a great way residents to experience local attractions they might not have ever taken the time to do.
But at the end of the day, we all are taking our time to Say YES to Travel as we will all be looking for experiences to continue enriching our lives.

Latest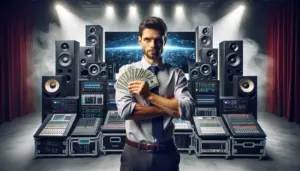 December 8, 2023
Mastering AV sales strategies in a global professional audio-visual (Pro AV) market, poised to reach $79.2 billion by 2028, requires much attention to detail. The surge in demand from corporate, government, and institutional sectors, driven by the need for enhanced productivity and efficient working environments, gives AV sales pros a lot of opportunity. In […]
Read More