Disney CEO Bob Chapek on Park Reopening Precautions and Future Plans
As COVID-19 restrictions ease across the United States, Disney plans to open its flagship Disneyland theme park on April 30th. The company's CEO Bob Chapek spoke to Bloomberg about the much anticipated reopening and his optimistic outlook for the future.
Chapek: We're thrilled with the response that we're seeing from our guest in terms of future reservations and intent to come back to our parks, I think it's a function of two things. Number one, confidence that we're seeing the light at the end of the tunnel for the pandemic, but also a tremendous trust in our brand. You know, we've been able to operate across the world at Walt Disney world, for example, for the last nine months. And we've done so responsibly. We've had the NBA bubble that was so successful. And I think guests know that Disney is going to do it right. And that brand trust really leads them to want to come back to our parks and experience the magic and knows that we're going to be responsible as we do that. And they can have a great time.
Host: So the date is April 30 for California, but you've got 15% capacity limits in the red tier. You can get up to 25% if we get into the orange tier. Kids are thrilled, but investors want to know, can you make money with these kind of limitations? No out-of-state residents as well.
Chapek: As we've said from the very beginning, there's a couple of requirements for us to reopen the park. First one, as I mentioned, as we have to be able to do so responsibly and make sure that everybody has a great time while also being safe at the same time. We're only going to open up if it could be accretive to shareholder value. We're going to be able to cover our variable expenses and make a contribution towards profit. And that's been the case, since we started reopening our parks nine months ago. And that'll be the case with Disneyland. So we're confident we can do that. And of course, as conditions improve and the constraints are relieved, we'll be there to ramp up and make sure that everyone has a great time and welcome even more people back to the magic of Disney.
"I think it's going to create a reemergence scenario where magic is going to be even greater for our guests when they do come back to our parks." – Disney CEO Bob Chapek
Host: So what are some of the new technologies that you've used over the last year that you think might stick around post pandemic? Will temperature screenings continue? For example? Will you use the reservation system a lot more?
Chapek: Well, in addition to all the health guidelines that we've been following across the world, you know, masks, temperature checks, increased hygiene, six foot social distancing, we're also going to be introducing a new reservation system. That's going to enable our guests to have a great time no matter when they choose to come to Disney. Of course, nobody ever wants to go through a pandemic, but our teams here have been hard at work, making sure that when we reemerge that we're going to do. So in a way that's actually going to improve the guest experience even versus a pre pandemic situation. And our guest satisfaction scores, since we've reopened across the world, have shown that indeed our guests are even more satisfied than they were prior to the pandemic. We've learned some things. We've learned to operate under constraints all the time by delivering this great, say, Disney magic that you expect. But, you know, we've been in a fortunate situation where we've had a lot of demand in the past. In many cases, that has exceeded what we can actually supply in terms of how many people we can put in a park. And there's been no situation that's been, you know, more like that than we've had upon reopening and really having to operate under some really tight constraints. But we've gotten even better. And better at it. And I think it's going to create a reemergence scenario where magic is going to be even greater for our guests when they do come back to our parks. Now, Disneyland, Paris looks like it will be the last to reopen. They were scheduled for April 2. That's gotten pushed back.
Host: Do you think it'll reopen by summer?
Chapek: Well, we certainly hope so. You know, we follow the guidelines of local governments and local health agencies in terms of telling us when it's safe for us to reopen. I agree with you. That will probably be the last of our parks to reopen again. But when it does, we'll be there again to operate responsibly and make sure that we have magic for everybody.
*Bloomberg contributed to this content
—
Latest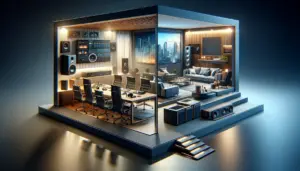 November 27, 2023
In this episode of "Pro AV Today," host Ben Thomas sits down with Audra Kinsley of Sonos Professional to unpack a topic that's causing (sound) waves in the audio industry: the fusion of commercial and residential audio systems. As we navigate through a landscape where consumer and professional audio worlds are increasingly intersecting, Sonos steps […]
Read More