How Light and Data are Leaving Hotel Guests More Energized In the Morning
Hotels are constantly striving to provide guests with the most pleasant experience possible, from booking to check-out. In an era of rapidly advancing technologies, many hotel proprietors, big and small, are looking at high-tech methods to enhance almost every aspect of a guest's stay.
Signify, the newly established Philips Lighting brand, recently launched its own 'Interact Hospitality' system. The platform, which made its debut at a luxury hotel in Singapore, employs the Internet of Things (IoT) to combine connectivity and data to improve a guest's experience. Notable features include bio-adaptive lighting, scene management, and environmental monitoring.
The benefits of the Interact Hotel system are not just for guests, however. Hotels stand to add business as well. The lighting company's marketability solution is beneficial feature for hotel staffs. With its scene management feature, hotel management can easily change their building's façade to reflect holidays or celebrations to make a hotel stand apart and further build a company's brand.
Another unique element in Signify's hospitality system is its bio-adaptive lighting. The theory behind bio-adaptive lighting technology is to provide artificial lighting that best matches the needs of human biological cycles or circadian rhythm. For example, exposure to light too late in the evening can delay circadian rhythms and furthermore interrupt productivity. Hotels like Swissotel The Stamford are using this same scientific principle to make sure guests wake up and go to sleep at their best, are energized in the lobby, and sleep in serenity. The system integrates these settings in every room to provide unique accommodations for every guest.
Environmental monitoring is empowering both guests and management to get HVAC issues resolved quickly and efficiently as well. Sensors located throughout a hotel room monitor room occupancy to ensure the most energy-efficient operation. Data from different sensors also monitor temperature and humidity levels to ensure a timely response is taken. All this information is available for hotel staff through the Interact Dashboard. This central operating system gives hotel staff complete access to every request a guest has made, from laundry orders to conference room meetings.
While many hotels, big and small, are increasingly integrating technology to satisfy their guests, Signify is hoping both customers and management can benefit through technology and data. With features like "Smartphone Key Access", to a rise in data collection that helps market vacation excursions more accurately; data, artificial intelligence, and the internet of things will continue to revolutionize how people travel.
Latest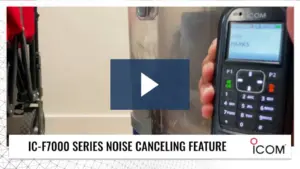 September 27, 2023
In this brief product demonstration video, ICom's IC-F7000 Series receives a mic test of its noise-canceling feature. Through the two demonstrations it is clear the IC-F7000 removes loud ambient noise for clear two-way communication.
Read More