Marriott's Re-imagining of the Rewards Program
This summer, as a part of their new "Unified Rewards Members" overhaul, Marriott Hotel will consolidate Member Rewards Points from Ritz-Carlton and Starwood Preferred Guest members, as well as re-introduce their "Moments" catalog filled with over 100,000 guest experiences. Being an industry typically focused on hospitality management, this move allows Marriot to expand the personalized customer experience through data and analytics.
Marriott's reward program overhaul includes an expansive list of new and modified perks for existing members. Beginning in August, this program will have broad dimensions for loyalty members and regular consumers. Some perks include redefining standards for loyalty "tiers" and allowing members to earn points and achieve "elite" status faster. Marriott has revamped their partnership with JP Morgan Chase and American Express, and will launch new credit cards that gather points and offer perks. Most notably, Marriot will reintroduce the "Moments" experience, which has member exclusive, and non-member, excursions, tours, and "once in a lifetime experiences".
The Moments catalog is a larger reflection of a changing consumer pallet. According to some analytics, "…customer-experience leaders gain rapid insights to build customer loyalty, make employees happier, achieve revenue gains of 5 to 10 percent, and reduce costs by 15 to 25 percent within two or three years." This has prompted hospitality companies like Marriott to focus more on customer relationship management, especially in the wake of their acquisition of WakePass, a tours and activities search engine, which will help connect 100 million of Marriott and partner companies' customers to their vast number of tourist experiences.
These "Moments" experiences range from wine tasting and surf lessons, to more luxurious events for premium members, such as tickets to events like the Coachella Music and Arts Festival and The Super Bowl. However, these experiences are currently available to book, not completely exclusive to loyalty members, and largely redeemable with cash rather than points; but, this will change throughout its progressive implementation. The hospitality industry is embracing this new perspective on the customer experience. David Flueck, Senior Vice President of Global Loyalty, Marriott International states, "We listened to the travel aspirations of our members and set our sights on unlocking the full potential of our loyalty programs…" 
Learn more about the new Unified Rewards Program here.
Latest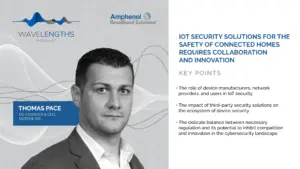 November 28, 2023
Since the introduction of smart devices, the world has increasingly become dominated by interconnected devices but IoT securitydemands are also growing. The "connected home" has shifted from what was once a futuristic concept to reality. With the global smart home market projected to reach $135.3 billion by 2025, the conversation around the security of these […]
Read More