How Will Remote Experiences and Hospitality Coexist Moving Forward?
Online live experiences – those that give us a chance to immerse ourselves in entertainment, education and more from anywhere – have carved out a permanent place in our world in the wake of a year unlike any we've ever seen.
However, do they have a place in hospitality? How can they coexist with the traditional landscape of in-person events and entertainment?
To find out, Voice of B2B Daniel Litwin invited Kevin Noonan onto the episode of MarketScaleTV. Noonan is the Founder of Majestic Circus, a company that specializes in bringing live entertainment into your home via remote experiences.
Noonan is no stranger to traditional hospitality operations, having worked as a director for Carnival Cruise Line. That gives him a unique perspective from both sides of the fence regarding how live, remote events could mix with the hospitality world we've become accustomed to.
"We went into this with a clear vision," Noonan said. "Our goal is to continue entertaining in a time when it's very difficult to find an audience and find a platform to entertain. We had an intense focus on getting directly into the homes of our customers, our clients, and having some fun with them."
Litwin and Noonan explored how Majestic Circus made that vision a reality, what it takes to adapt in-person events to a virtual setting, how entertainers can navigate the financial landscape of the modern hospitality industry, and more.
Latest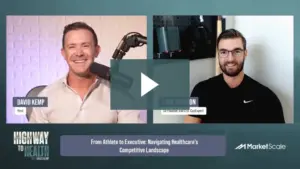 September 28, 2023
Navigating healthcare's competitive landscape requires innovative solutions addressing care quality and affordability. CapExpert is a game-changer in outpatient healthcare. It enhances asset management, ensuring the best care for patients. Luke Johnson, Co-Founder and CEO of CapExpert, spoke with Highway to Health's David Kemp on how CapExpert enhances asset management, bridging visibility gaps and streamlining […]
Read More