IHG TO BECOME MAJORITY OWNER OF REGENT
InterContinental Hotels Group (IHG), a British hotel company with brands like Candlewood Suites, Crowne Plaza, Holiday Inn and Holiday Inn Express and many others, announced agreement to purchase a 51% share in Regent Hotels and Resorts.
They also receive the right to acquire the remaining 49% in phases after 2026. While IHG is already a global leader in the $60 billion luxury hotel market, the $39 million majority share buy-in of this top brand will position IHG as a major player.
Although there are currently only six properties (2000 rooms), the Regent brand is a symbol of luxury since its founding in 1970. Over the long term IHG intends to globally expand the number of properties to 40 hotels (10K rooms). This expansion includes refurbishing InterContinental Hong Kong in 2020, and rebranding it as a Regent Hotel in 2021.
This particular rebranding will actually be a return to brand, as the InterContinental Hong Kong was originally opened in 1980 as a Regent. Robert H. Burns founded Regent in order to combine Asian hospitality with Western elegance, and doing this in a city that combines Asian and Western cultures is symbolic in many ways.
Furthermore, this particular property is well known internationally as one of the top luxury hotels in the world, and returning it to its original brand and making it a flagship of Regent will enhance its reputation. The return of the InterContinental Hong Kong as a Regent is a symbol of IHG's brand ambitions, and fortunately IHG has that ambition and resources needed to bring their vision to reality.
Three new Regent Hotels with 900 rooms are already in the planning stages. No question that this investment in Regent means IHG will be a major player in the luxury hotel market for a long time to come, and Regent Hotels will be a major part of those ambitions.
Latest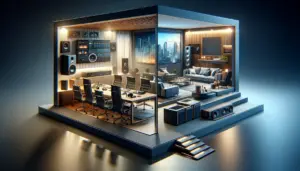 November 27, 2023
In this episode of "Pro AV Today," host Ben Thomas sits down with Audra Kinsley of Sonos Professional to unpack a topic that's causing (sound) waves in the audio industry: the fusion of commercial and residential audio systems. As we navigate through a landscape where consumer and professional audio worlds are increasingly intersecting, Sonos steps […]
Read More