Is the Design of Your Favorite Restaurant Affecting Your Taste Buds?
Restaurants have long been a shared social experience, with the table acting as a central core that people gather around to enjoy a meal together and connect both visually and verbally. However, today, more and more restaurants are implementing minimalist design into their establishments, favoring sparse, contemporary décor and high, open ceilings, while eschewing the heavy curtains, carpeting, upholstery, and table cloths popular in previous decades. Sound is reflected off these hard surfaces, creating a din that makes normal conversation impossible.
The Cons
Noisy dining experiences tend to isolate us, rather than bringing us together. In fact, according to Zagat's 2018 Dining Trends Survey, the most irksome element of dining out is noise at 24 percent, surpassing crowds (15 percent), high prices (12 percent), parking (10 percent), and even poor service (23 percent).
The noise levels of many restaurants can be particularly daunting to hearing impaired patrons, as the inability to have conversations with friends and family can be frustrating. Further, continuous exposure to loud noise is not only harmful to the diner's hearing but can be even more hazardous for the employees.
In a Washington Post article entitled "No Appetite for Noise", Robert W. Sweetow, Director of Audiology and Professor of Otolaryngology at the University of California in San Francisco, remarked "Theoretically, the sound levels over time are loud enough to get impaired hearing." Furthermore, loud volumes can impact more than our hearing—noise may also affect our perception of taste, according to a study.
The Pros
Yet, there are those that swing on the other side of the noisy restaurant debate. Some diners prefer the anonymity a loud restaurant affords them. Parents may choose a noisier eatery over a quieter one simply because it allows their children more freedom to enjoy their meal without invoking the ire of neighboring diners. And others simply prefer the entertaining revelry of a loud restaurant, equating the din to a lively establishment that is both buzzworthy and hip.
Absorption is the Answer
Whether it's pin-drop quiet fine dining or an upbeat bar, what can restaurant owners do to control noise levels while ensuring the vast spectrum of diner's needs are met?  David Paoli, an acoustical engineer at Shiner Acoustics, asserts that sound absorption is the key to a good-sounding restaurant because it reduces the noisy din that can often be created by both the materials in the restaurant and the patrons themselves. "Without sound absorption, spaces get noisy," Paoli told the Chicago Tribune. "When you're talking and you want to be heard, you have to raise your voice, and before you know it, it's very loud."
Per restaurantengine.com, the ideal sound level for normal conversation is between 55 and 65 dB. When normal restaurant noise is factored in, a restaurant moves to about 70 dB, resulting in louder customer conversations in order to be heard. When levels reach 75 dB, conversation is difficult and at 85 dB, damaging. While noise should be considered during the design process of an establishment, sound-proofing is often relegated to the back shelf in light of budget concerns.
There are several quick methods to soften the blow, so to say, in an up and running eatery:
Keep heavy machinery and frequently used appliances away from dining areas.
Assess and repair noisy HVAC systems.
Do not skimp on a stereo system—music played over high quality speakers can augment the dining experience, while a lower quality system can be harsh and dissonant thereby adding to the din.
Install carpet in high traffic areas such as the bar area, in front of the kitchen, or in the lobby to help mute excess reverberation.
Opt for curtains in the windows—even thinner drapes can affect a restaurant's sound quality.
Add tablecloths to both absorb ambient noise from individual table conversations and reduce the clanking of utensils, plates, and glassware.
If a restaurant's particular vibe does not coincide with the adding of linens, carpeting, and drapes, turn your direction upward. Most diners are focused on what's in front of and around them; thus, the addition of insulation to the ceiling will likely go unnoticed and not distract from the décor. A quick fix can include the draping of a soft cloth attached to the ceiling, or if budgets permit, turn to a sound abatement specialist to have sound proofing panels installed overhead. Also, noise absorbing wall panels in complementary fabrics or painted textiles that can double as art objects can help lessen unwanted noise.
Finding an acoustic solution to a noisy restaurant is a balance of aesthetics and utility, but controlling auditory levels in your establishment can have a positive effect on the overall dining experience.
For the latest news, videos, and podcasts in the Hospitality Industry, be sure to subscribe to our industry publication.
Follow us on social media for the latest updates in B2B!
Twitter – @HospitalityMKSL
Facebook – facebook.com/marketscale
LinkedIn – linkedin.com/company/marketscale
Latest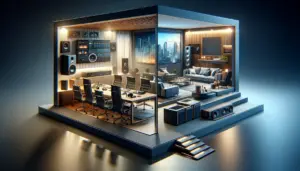 November 27, 2023
In this episode of "Pro AV Today," host Ben Thomas sits down with Audra Kinsley of Sonos Professional to unpack a topic that's causing (sound) waves in the audio industry: the fusion of commercial and residential audio systems. As we navigate through a landscape where consumer and professional audio worlds are increasingly intersecting, Sonos steps […]
Read More