Listen: Robotics Company Changing the Customer Service Game for Hospitality Industry
The hospitality industry has a strong track record of providing just the right personal touch when accommodating guests. A recent technological advance just might force a new definition of that concept.
Over 60 upscale hotels across the country are now using robots to help give that extra personal attention that keeps guests coming back.
The robots are manufactured by a company called Savioke.
At the Luma Hotel Times Square, General Manager, Kate Martin says "We felt it was a novelty and we felt it would be something different to bring to our guests."
The hotel utilizes a robot named Alina to tend to its 7,463 guest rooms. Alina can provide extra products, such as towels or additional bath products, to guests, and can even call the elevator for itself through a Wi-Fi connection. The guest receives a phone call once the robot has arrived at their door.
This technological trend can free up human employees to devote more time to to providing the human touch that is so critical to the industry's success.
Latest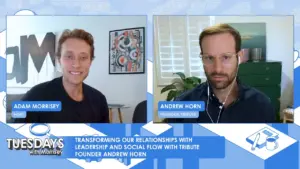 November 28, 2023
Can relationships be transformed through leadership and social flow? Navigating the intricate web of digital relationships can be a tricky proposition. Tuesdays with Morrisey's Adam Morrisey uncovers the transformative impact of emotional recognition in the workplace with Andrew Horn, the mastermind behind Tribute. This podcast edition unravels the story of a platform redefining how […]
Read More