Moley Robotics is Bringing Automation to the Kitchen
Automation is on the rise in every aspect of American life, from how we get our food to how we shop for groceries, robotics and AI are becoming more commonplace to come across daily. Many fast food chains have already started implementing touch screen menus and mobile ordering that replace traditional person-to-person transactions, but that same automation could now be able to cook, with the help of a robotic arm, gourmet meals mirroring the techniques of award winning chefs in the comfort of your own home. Meet Moley Robotics, a company seeking to revolutionize the way we cook at home. MarketScale spoke to founder and CEO Mark Oleynik to learn more about Moley's robotic chef and what it has in store for the future.
Moley Robotics Kitchen is comprised of kitchen cabinetry, the robotic arms, a motion capture system, and a full set of kitchen equipment and appliances. Mr. Oleynik goes on to explain, "two highly complex, fully articulated hands are the stars of the show. With ability to faithfully reproduce the movements of a human hand, they give the kitchen the capability to cook anything a human chef can.
"The motions are pre-recorded from Master Chef winner Tim Anderson's every movement cooking a dish," according to Mr. Oleynik. "His actions were then translated into digital movement using bespoke algorithms created with the collaboration between Moley and teams from Shadow Robotics (UK), Universities of Stanford (USA) and The Sant 'Anna School of Advanced Studies Pisa (Italy).  The robot doesn't just cook like Tim – in terms of skill, technique and execution, it is Tim producing the dish."
This motion-capture technique will be used to generate an ever-growing digital library of recipes for the Moley Kitchen to cook. User-friendly motion-capture and translation systems will allow consumers and professionals alike to record and share their recipes on an iTunes type platform, across multiple markets.  An important part of this system, states Oleynik— "This will not only provide fantastic utility for the users, it will actively promote interest in high quality food and international cuisine."
This kitchen does not inhibit the passions of a true chef. The kitchen can also be used by human cooks when required – with the robotic arms folding away out of sight to present a clean, ergonomic workspace with utensils shaped for a human hand.
Moley Robotics' technology will not just be for the ultra-rich, either. Oleynik envisions a future where robotic arms replace traditional kitchen remodeling.
"The Moley Robotic Kitchen is designed to be a mass-market proposition. By 2021, three years after launch, it will be sold for $35,000 – comparable to average sums spent on kitchen refurbishment. This creates a potential market of 5,95 million homes in 17 countries." Oleynik said.
The future of cooking for consumers is bright and can soon bring the nuances of fine dining to consumers without ever having to get off the couch.
Latest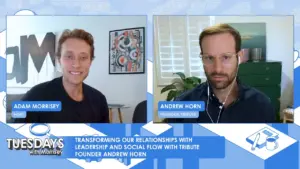 November 28, 2023
Can relationships be transformed through leadership and social flow? Navigating the intricate web of digital relationships can be a tricky proposition. Tuesdays with Morrisey's Adam Morrisey uncovers the transformative impact of emotional recognition in the workplace with Andrew Horn, the mastermind behind Tribute. This podcast edition unravels the story of a platform redefining how […]
Read More