Office Hours with Michael McCall: Knowing What the Customer Wants As Much As They Do
Welcome to Office Hours, where current issues facing hospitality professionals will be discussed and potential solutions pursued. My name is Michael McCall and I am the NAMA Endowed Professor of Hospitality Business at Michigan State University.
My primary areas of expertise lie in customer loyalty and reward programs, but I am particularly interested in the wider consumer behavior landscape. Over the next few months I will be discussing issues that we are thinking about in the ever expanding field of Hospitality; these might include topics related to guest security, loyalty and revenue management and other areas related to consumer lifetime value. Notably, I will be commenting on those issues that are keeping hospitality executives up at night.
In our ongoing series of discussions, we have considered the history and current status of the customer loyalty landscape. While many programs can demonstrate some benefits and ROI, few programs are fully leveraging the value and opportunities that are available. As noted, the real value can be found in the relationship established between the firm and the customer.
That process begins with a better understanding of the customer as well as the kind of relationship both parties desire. Let's consider some of the frequently heard phrases that attempt to characterize the strategic focus for customer relations.
These phrases can be found in the vision statements for many hospitality firms and usually involve some variation of customer relationship management (CRM), customer engagement (CE), and customer experience.
In this column, I want to touch upon what firms might do to enhance the success of these consumer-oriented emphases regardless of the label given to them.
As a beginning note to this brief discussion it is important to realize that each of the terms used above represent well-meaning attempts to reach out to the customer. Indeed, they are key strategic components for many of the most well known hospitality brands and serve as a corner piece in hospitality research and education. The real challenge begins when we take these ideas and attempt to implement them on a customer level, and of course, how do we measure the impact of these efforts.
The academic term "operationalize" essentially means to translate and in this case the question becomes one of anticipating customer needs and wants. This often expressed yet not always practiced mantra goes back to the classic call by Theodore Levitt in a Harvard Business Review article that urged firms to better understand their customers. We can begin with a simple and straightforward principle: Consumer behavior is goal-directed. That is, behavior is purposeful. It is incumbent upon the provider to understand what that goal might be.
For instance, some products that might fall into a special occasion category illustrate this point. Customers purchase high end pints of crafted ice cream to either celebrate a positive event or to raise their spirits from a negative mood.
The lesson here is that the purchase and consumption of a specialty ice cream is neither random nor spontaneous; it is purposeful. The goal then is to appeal to consumers on that emotional level. The same might be said for selecting restaurant brands or resort properties that offer a variety of experiential attributes; consumers are not simply selecting food and lodging but rather an experience. Consequently, the key to strategic engagement is to bring together the attributes that consumers seek and the benefits.
There are times however when understanding customer desires is not clear. That is, customers are not aware of their own desires and how a service or good might satisfy those needs. Malcolm Gladwell makes a wonderful case that the creation and subsequent success of chunky tomato sauce did not come about from a survey or focus group (https://www.ted.com/talks/malcolm_gladwell_on_spaghetti_sauce).
Rather, customers embraced a product that they had never experienced.  The financial success of this "discovery" is estimated to be in excess of 600 million dollars.
To bring this together, customers are going to become more engaged when firms have a better understanding of precisely what customers desire and then deliver it. Difficulties in gaining this level of understanding can come about from a lack of accurate data as well as a customer's inability to articulate those desires. Those firms that can leverage their customer database will have a distinct competitive advantage in peeling back the layers of consumer motivation.
In a series of future columns, we will discuss a variety of consumer principles that provide insights that firms can readily act upon. As always, I welcome your thoughts, comments and suggestions for future columns.
Make sure to follow along with Office Hours, a bi-weekly column by Michael McCall.
For the latest news, videos, and podcasts in the Hospitality Industry, be sure to subscribe to our industry publication.
Follow us on social media for the latest updates in B2B!
Twitter – @HospitalityMKSL
Facebook – facebook.com/marketscale
LinkedIn – linkedin.com/company/marketscale
Latest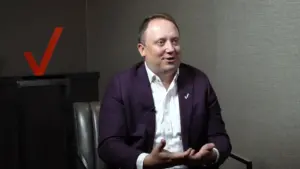 December 1, 2023
For a special episode of The Verizon Partner Network the focus was on the considerable role of partnerships in the Verizon Partner Program and the leaders shared their perspectives on the initiative. Their conversation brought about a lot of thought-providing context on the evolving telecommunications landscape. In today's era, collaboration and integration are key to […]
Read More