Office Hours with Michael McCall: The Future of Reward Programs
Welcome to Office Hours, where current issues facing hospitality professionals will be discussed and potential solutions pursued. My name is Michael McCall and I am the NAMA Endowed Professor of Hospitality Business at Michigan State University.
My primary areas of expertise lie in customer loyalty and reward programs, but I am particularly interested in the wider consumer behavior landscape. Over the next few months I will be discussing issues that we are thinking about in the ever expanding field of Hospitality; these might include topics related to guest security, loyalty and revenue management and other areas related to consumer lifetime value. Notably, I will be commenting on those issues that are keeping hospitality executives up at night.
Welcome! Recently, I discussed some of the basics of customer engagement and looked at the early development of customer reward programs as a key part of that engagement process. In this edition, I consider the challenge that faces these programs as they move into the future.
Three key points are discussed here: 1) the need to reward the correct customers, 2) the need to redefine what behaviors programs ideally wish to reward, and 3) to understand the role of data management in the customer relationship process.
Finally, these areas are brought together in a discussion of some recent findings that underscore the value and value potential of a program that takes a deeper dive into loyalty data.
In January, I talked about the origins of customer loyalty beginning with the S&H green stamp program and evolving into the American Airlines AAdvantage program. S&H stamps provided choice but no customer data and while the AAdvantage airlines program did provide data, there was little choice in rewards.
The primary goal of a loyalty program has always been to find ways to reward the best customers. The larger issue to be raised was whether the airline programs and those that followed them into hospitality (hotels, resorts etc.) actually rewarded the right customers. For instance, when American Airlines first launched its customer loyalty program in 1981, there was a reasonable relationship between the costs of flying and the distance flown. Longer trips cost more than shorter trips and those who flew more were rewarded with more flier "miles."
That relationship has changed dramatically over the years.
Airlines now reward miles flown not money spent. They are far less connected than they were years ago. A customer who flies frequently for business between Chicago and Atlanta, uses an airline credit card, and books through an OTA (online travel agency) is a valued airline customer and rewarded accordingly. However, imagine someone in Palm Springs, California who flies first class to Europe once a year. Both customers are valuable to the airlines yet, it is the frequent flying business traveler that receives significantly more perks and rewards. In terms of actual spend, the latter is likely to be the more profitable customer.
An additional problem arises when firms seek to restructure their programs to bring customer spend and flying miles back in line with each other. Delta Airlines experienced considerable backlash as it repeatedly attempted to realign its program in a manner that challenged the existing program and was perceived as not being beneficial to the customer.
The second issue of interest here is what firms and customers want from loyalty programs. While the obvious answer for the firm is repeat patronage, more advanced firms seek much more. Repeat customers may or may not have positive affect towards the firms they patronize. People might choose an airline or hotel because it is convenient or because they have status within the program.
By itself, repeat patronage fails to create the kind of engagement and positive word of mouth that most firms desire. What customers say about the firm as well as what they share on review sites and other forms of social media have become a critical component of any hospitality business strategy. The short answer is that firms must decide how their customer loyalty program fits strategically with their ongoing customer engagement initiatives. The process involves moving beyond the imitation model that segments customers along tiers of precious metals and digs deeper into the values and desires of their customers.
To better understand what advantages might be gained by pursuing a customer driven loyalty strategy several colleagues and I gathered data from a quick service food establishment. Statistically, we were able to match reward program members with nonmembers and track spending for more than a year.
Two interesting findings emerged; the first was an overall increase in spending among program members when compared to nonmembers. The second and more striking finding was that program members who were "promoted" or "upgraded" during the first year of membership accounted for virtually all of the increased spend and this difference increased dramatically over time. Taken together, these data suggest that customers want attention, engagement and more importantly, to feel special. It is a simple take home message and one that firms should keep in mind.
As always, I welcome your thoughts, comments and suggestions for future columns.
Make sure to follow along with Office Hours, a bi-weekly column by Michael McCall.
For the latest news, videos, and podcasts in the Hospitality Industry, be sure to subscribe to our industry publication.
Follow us on social media for the latest updates in B2B!
Twitter – @HospitalityMKSL
Facebook – facebook.com/marketscale
LinkedIn – linkedin.com/company/marketscale
Latest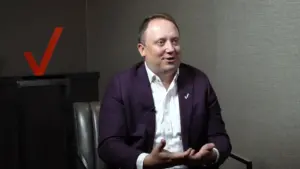 December 1, 2023
For a special episode of The Verizon Partner Network the focus was on the considerable role of partnerships in the Verizon Partner Program and the leaders shared their perspectives on the initiative. Their conversation brought about a lot of thought-providing context on the evolving telecommunications landscape. In today's era, collaboration and integration are key to […]
Read More