People Don't Miss Business Travel, says Airbnb CEO
Airbnb's quarterly revenue blitzed analysts' estimates, but it declined to give a financial forecast and is cautious about 20-21. CEO Brian Chesky tells Bloomberg Technology's Emily Chang that indications are pointing to a big rebound in travel and the company is preparing for it.
—
Transcript:
Chesky: Our model is inherently adaptable, so however travel changes because we have millions of hosts in 100,000 cities and communities in nearly every corner of the world, however, travel changes. We can adapt. And what we're seeing is people are staying longer. They're getting in cars, they're traveling nearby. And that's the kind of travel that people want with Airbnb. They're also telling us they must travel. But the kind of travel people miss is not business travel. And it's not like standing in line to see a landmark. What they miss are spending time with family and friends and staying in a home and being hosted is really a great way to do that. So I think that explains some of the recovery.
Host: Digging into the numbers, revenue was down 22% for the quarter, 30% for the year, but your competitors down way more than that. Expedia down 57 percent, bookings down 55% How much do you see that competitive edge continuing post pandemic, especially given that now is a unique time when people might be favoring vacation rentals over hotels?
Chesky: I can probably comment more on what's going to happen for Airbnb, but we know a few things to be true. The factors that were driving our recovery, we believe will continue through the year. Again, business travel is probably not going to recover, but leisure travel will. We are at predominantly leisure travel business. People probably won't be crossing borders right away or going to big urban centers. They're probably in the beginning in cars and traveling to small communities nearby. That is really the concentration of Airbnb now in the world. Assume people can work from home and they're realizing they can work from any home. And so you're going to start to see more and more longer stays on Airbnb as well. So we think all the reasons why people loved airbnb, those reasons will continue in addition to new use cases that I think people keep discovering to use Airbnb from COVID and beyond.
"Business travel is probably not going to recover, but leisure travel will." – Airbnb CEO Brian Chesky
Host: Now on the forecast, you say year over year comparisons are going to be volatile and unreliable, but give us some color on what you see in the year ahead. When do we see a real bounce back?
Chesky: Well, anyone that was in the business of predicting the future last year would have probably gone out of business, so I'm going to try to not predict too much about the future. We do believe the travel rebound is coming. The reason why is because people tell us we did a travel survey of American travelers and they said that travel is the out of home activity they miss the most. The majority of people we polled, including people that make meeting or below median income, do plan to travel this year and they plan to travel when it's safe to do so. And what it's safe to do so is a subjective feeling that people will probably determine on a very personal basis. So here's what we know. We do believe a travel rebound is coming. We think it's going to be a very big rebound. We don't know exactly when, but I've told my team better to be early than late. So we want to assume the best case scenario that it comes back early and we'll be ready as soon as is.
*Bloomberg contributed to this content
—
Follow us on social media for the latest updates in B2B!
Twitter – @MarketScale
Facebook – facebook.com/marketscale
LinkedIn – linkedin.com/company/marketscale
Latest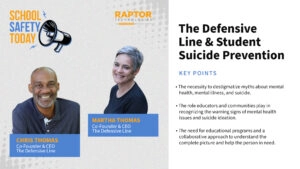 September 22, 2023
Student suicide prevention is a paramount concern among mental health providers. For one organization, student suicide prevention is more than a concern: it's their mission. The alarming rise in mental health crises among youth has become a pressing concern in recent times. With the complexities of modern life and the challenges of the digital […]
Read More