Restaurant Technology Starts Outside the Venue
Restaurants have historically shown themselves to be hubs for experimentation in recipe, preparation, and dining experience. While the world around restaurants moves steadily toward technological integration, some restaurateurs balk at the prospect of bringing screens into their kitchens and dining rooms.
Recently, a number of particular tech companies have demonstrated to even the most hesitant of chef/owners why their tech, be it AI, SEO, or POS, can dramatically transform a restaurant and find a startling amount of new revenue, cost reductions, and brand enhancements.
The ubiquity of online shopping cannot be ignored. Its effects have shifted customer expectations, even in non-retail sectors. With that focus on convenient checkout in mind, enter ResDiary and Quandoo, two apps that handle booking, ordering, and payment.[1]
These two companies herald a potential revolution in how bookings are handled: pre-orders and ticketing. With over two-thirds of 16-20 year olds reporting a preference for placing their orders before they arrive at a location, having a slick and mobile-friendly pre-order app is shaping up to become essential as these consumers age into buying power.
ResDiary's focus on ticketing, which involves selling tickets around live music, club atmospheres, and special time-sensitive deals, helps to reduce no-shows and increase brand engagement.
Analysts in the hospitality industry have started to notice a major connection between the way a brand engages its potential diners and one constant restaurant headache: no-shows. Solutions to this seemingly unsolvable problem have adopted new approaches in recent years.
Quandoo advises restaurants to focus on pre-validation for diners, once seen as a good way to scare off business.[2] With credit card information saved and online payment services like PayPal on nearly every platform, pre-validation has returned and has cut no-shows by up to 3 percent in certain locations.
Reminder emails and dynamic deal offers that can be generated instantly make on-the-fly engagement possible, and that amplifies the impact of brand engagement during the booking process, wherein diners are looking for reasons to return.
While making an initial impression is valuable, restaurants have struggled to respond to customer feedback. The fickleness of online reviewers and awkwardness of word-of-mouth feedback has left some restaurants in the lurch. Yumpingo wants to change that. With devoted hardware to be given to customers at the end of their meals, a one-minute survey enters customer's honest feedback directly into a machine-learning system.[3] Customers feel that they are better heard and their opinions are captured at their most valuable point.
Tech has plenty more in store for hospitality and the companies leading this revolution are just getting started. The more open restaurants are to these changes, the more powerful their impact will be.
[1] https://www.bighospitality.co.uk/Article/2018/06/04/Restaurant-reservations-technology
[2] https://www.bighospitality.co.uk/Article/2018/09/04/Future-restaurant-technology
[3] http://elitebusinessmagazine.co.uk/interviews/item/wine-and-marinating-food-in-tech-was-the-recipe-for-success-with-yumpingo
Latest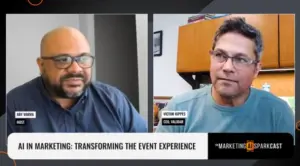 November 28, 2023
AI has been gradually changing the landscape of event technology at a very rapid pace. In an industry where staying ahead of technological trends is crucial, AI's impact on marketing and event management has become increasingly significant. As witnessed in the rise of account-based marketing and enhanced personalization, AI is effectively reshaping how events […]
Read More