Restaurants Are Serving Up Sensors to Keep Diners Happy
Monitoring the various moving parts of a restaurant, from inventory to how long a customer has been waiting for a curbside pickup, is as important as it is daunting. In an evermore-connected world, having easy and reliable access to relevant information has become almost mandatory to keep a restaurant efficient and diners happy.
Sensor technology is a particularly potent development for eateries, as it relieves an already strapped staff of simple but time-consuming tasks. There are several areas and applications for sensor technology in hospitality, with clear advantages on the day of installation as well as for years to come.
The basics of sensor technology are common across applications. They report back to a central system on whether a specific item or customer is present in a particular location. When diners pull up to a drive-thru, sensors are what clues employees in to start taking an order the moment the car comes to a halt.[1] Automating those precious few seconds between the arrival of a customer and the beginning of their experience seems minute, but over months it can account for days' worth of more efficient service.
The growth of IoT has likewise grown how and where sensor tech is employed. A recent wireless sensor launch from HME Hospitality and Specialty Communications widens this range even further, as their sensors seamlessly alert staff to the arrival of customers who have curbside pickup orders waiting.[2] Inside, staff see a traffic light-style setup wherein the longer a customer has waited, the closer it ticks to red. This enables an order "triage" system and ensures a queue is followed and customers are served in a timely fashion.
Not every application gives staff more valuable information. Sensors in pantries and other inventory storage locations can monitor when certain ingredients or staples are running low. The same task can be done in bathrooms, where a lack of sanitary items can frustrate guests so much their meal is spoiled.[3]
All of this data is easily collected and analyzed. In fact, this kind of analysis has been out of reach until the arrival of sensor technology. Connection to the IoT further enhances this data processing, comparing data across locations and, in special cases, across brands. Knowing peak hours, where staff is running out of time, and how design is affecting a restaurant experience is uniquely valuable.
This field remains relatively young. As sensors find their way into every corner of the restaurant, new efficiencies will inevitably be found. There is even a movement growing to help detect allergen and raw food contaminants.[4] For now, the key is watch closely and remain open to a sensor-enabled restaurant.
[1] https://www.bannerengineering.com/us/en/solutions/vehicle-detection/drive-through-vehicle-detection-and-business-indication.html
[2] https://www.qsrmagazine.com/news/all-new-wireless-vehicle-detectors-enable-restaurant-curbside-pick
[3] https://www.sensorsmag.com/components/optimizing-buildings-via-intelligent-building-asset-management
[4] https://www.modernrestaurantmanagement.com/coffees-cultural-appeal-and-the-peanut-sensor/
Latest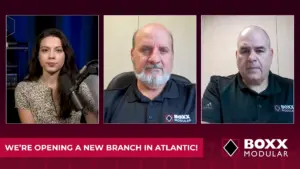 December 4, 2023
In an era where construction innovation is reshaping the industry, modular construction's growth continues to rise. In this episode of Built Modular, Boxx Modular's strategic expansion into Moncton, Atlantic Canada takes center stage. Host Gabrielle Bejarano welcomes Charles Landry and Ray Girouard to explore the implications of this venture. Bejarano, Landry, and Girouard discuss […]
Read More