Russian Hospitality Soars During World Cup, But At What Cost?
It's probably not surprising that hotels, restaurants, and retail stores made out quite well during the FIFA World Cup in Russia this year. Among the three million who attended the World Cup, a third were from outside Russia. That's a lot of hotels, and a lot of shopping and eating out. Perhaps not surprisingly, alcohol sales were also way up during the World Cup.
While economically most of the benefits of the World Cup have likely come and gone, the overall economic picture is a mixed one. While pretty much anyplace that could serve tourists did well, other economic sectors saw a downturn. One sector that felt this was auto sales. Throughout the World Cup, auto sales in Russia were down. This is a sector that, of course, would hardly have benefited from the World Cup anyway, but few realize that this event would actually have a negative impact.
Before the World Cup, there was a jump in demand for TVs and smartphones so those who couldn't afford to attend could still watch. It's likely that following the World Cup, though, there will actually be a decrease in sales of TVs and smartphones, since it's most likely people simply moved up purchases they would have made later in the year in a more distributed fashion
Some of the changes in Russia are going to be less tangible. Russia made environmental improvements, including improvements in parks. Accommodations were also improved at stadiums, public transportation, and other areas for the disabled. And while many of the jobs before and during the World Cup were short-term, even short-term purchasing power and the ability to add to savings will benefit the Russian economy over the long-run. These will certainly benefit the Russian people over the long term.
Latest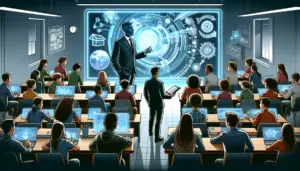 November 27, 2023
In an era where education stands at the crossroads of tradition and innovation, the potential value of thought leadership becomes the guiding star for progress. "Just Thinking" dives into this potential with host Kevin Dougherty and guest Evan Edwards, a Professional Learning Specialist at 806 Technologies who exemplifies the transformative impact of visionary guidance […]
Read More