Twin Peaks Lodge Leverages Maestro PMS' Self-Service Kiosks to Elevate the Guest Experience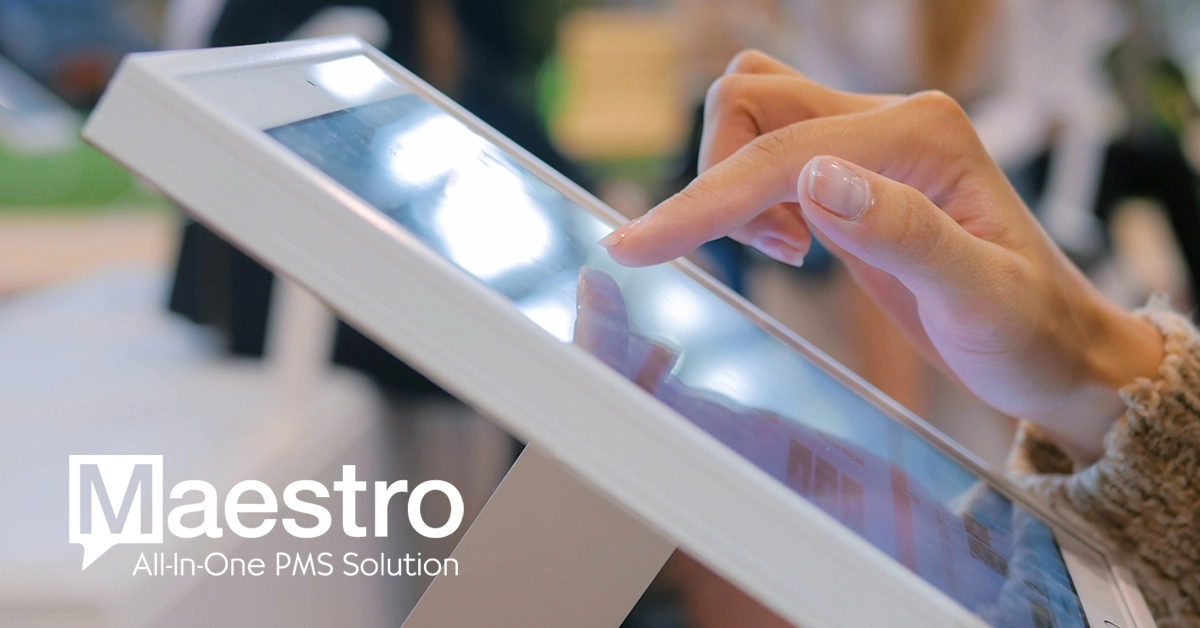 Bespoke hot springs resort in Colorado reaps long-term benefits of kiosk technology, transforms staffing challenges into guest benefits
MARKHAM, Ontario, November 7, 2023 — Twin Peaks Lodge and Hot Springs, located in Ouray, Colo., is using technology to simplify operations at a time when its team needs it most. The 93-room hotel has a storied history, beginning life as a two-story residence built in 1893. Over the years the property was transformed into a business, expanded, renovated, changed hands, and more, but the spirit of what it provides to the community of Ouray remains consistent. Despite being founded in the 1800s, the hotel's ownership team had a modern vision and turned to Maestro PMS to improve their digital operations and capabilities.
After onboarding Maestro's property-management system in 2018, the Twin Peaks Lodge and Hot Springs eventually leveraged the company's connectivity capabilities to provide three check-in kiosks in the main lobby. These kiosks automatically shepherd guests through the check-in process and guide them to their room with minimal intervention from on-premises staff. As a result, the hotel is able to maintain consistent, effective operations while employing just two front desk workers at a time.
Beth Bridges, Assistant General Manager, said the greatest challenge faced by the hotel's operations team was managing large groups checking in and out at the same time. This issue was consistent and challenging to overcome with the staffing challenges, and it remained one of the property's most significant barriers to providing a fully enjoyable guest experience. Once the kiosks were installed, however, things changed. The hotel's staff are no longer overwhelmed during common check-in periods, and only have to step in to assist guests when they encounter edge cases with kiosks.
"In 2018, our hotel's biggest guest complaint was slow check-in times," Bridges said. "Today we have three kiosks and two agents available to answer any questions, and the process is faster—we timed it. Our manual check-in process took seven minutes on average with all of the particulars we include as part of the engagement with the guest, while with kiosks it took just three. The devices print out a detailed map and welcome packet to help guests find their rooms, and even makes room keys. The entire process frees up valuable time for our agents, and usually we can provide a quick QR code guests can scan to solve any common issues they may have."
Bridges said the hotel was fortunate enough to have installed the kiosks prior to the COVID-19 pandemic and it has been benefitting from their increased acceptance among travelers ever since. While some guests continue to push back against the technology, Bridges said it does provide additional benefits, such as increased security by storing digital signatures similar to the Maestro digital registration card feature, rather than physical copies, and eliminating the need to repeat personal information out loud in the main lobby. Overall, the technology has increased the Twin Peaks Lodge & Hot Springs' operating effectiveness, guest satisfaction scores, and worker retention.
"The Twin Peaks Lodge & Hot Spring is a valued partner of Maestro PMS, and we are thrilled to continue improving our available partnered contactless check-in technology alongside them," said Warren Dehan, president of Maestro PMS. "Kiosk technology was once seen as a novelty in hospitality, but now it has become a mainstay of the check-in experience for many. Guests have embraced the technology for its ability to quickly get them to their room, while operators are using it to reclaim valuable time and focus on improving the guest experience. Kiosks will only get better as we learn more about guest behavior and adapt these findings to the hospitality environment."
# # #
 About Maestro
Maestro is the preferred Web Browser based cloud and on-premises PMS solution for independent hotels, luxury resorts, conference centers, vacation rentals, and multi-property groups. Maestro's PCI certified and EMV ready enterprise system offers a Web browser version property management software solution complete with 20+ integrated modules on a single database, including mobile and contactless apps to support a digitalized guest journey as well as staff operations. Maestro's sophisticated solutions empower operators to increase profitability, drive direct bookings, centralize operations, and engage guests with a personalized experience from booking to check out and everything in between. For over 45 years Maestro's Diamond Plus Service has provided unparalleled 24/7 Support complete with instant live chat help and education services to keep hospitality groups productive and competitive.  Click here for more information on Maestro. Click here to get your free PMS Buying guide.
Latest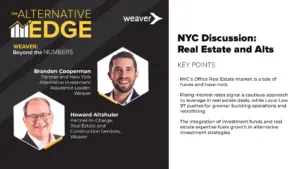 December 5, 2023
Explore the evolving landscape of New York City's real estate and alternative investments with Brandon Cooperman and Howard Altshuler in this insightful episode of Weaver: The Alternative Edge. Dive into the current trends, market forecasts, and strategic growth in the real estate sector. Key Points: NYC's Office Real Estate market is a tale of haves […]
Read More