Spring Break Travel in 2020: Say Yes To Travel
Spring break season is here. Say Yes to Travel's expert host Sarah Dandashy shared what trends to expect for spring break 2020 as well as a few tips for enjoying spring break as a working adult.
Despite a climate of political and health-related fear globally, air travel rates are currently up for 2020. Dandashy said "people still want to escape winter into warm getaways." Listing popular warm-weather destinations, Dandashy noted international locations like Mexico, The Bahamas, and Jamaica are favored this year.
"How much we see whether it's in film or TV, it actually affects where we want to travel to," Dandashy pointed out, especially referring to Jamaica as it is featured in an upcoming James Bond movie. Another "interesting choice people are making," Dandashy said, is London and the United Kingdom.
As for domestic destinations for spring break travel, Orlando is the number one trend. People are "looking for theme park capital of the world," Dandashy highlighted. Other popular domestic destinations include Phoenix, Los Angeles, New York City, Ft. Lauderdale, and more. Dandashy talked about her own great experiences traveling to Florida for spring break as a child.
"Take advantage of your spring break," advised Dandashy, even offering the advice to "take a staycation," to those who can't travel far or for a lengthy time this year. The "notion of spring break shouldn't die with getting out of school," she also advised working professionals without children. Even if it's just a long weekend, Dandashy said, there are "so many ways to travel and explore…it's quite refreshing."

Latest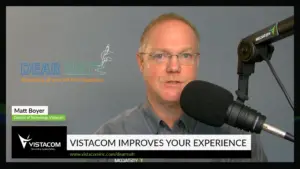 December 11, 2023
In a time when the AV industry supply chain faces unprecedented challenges, understanding its current status and future trajectory is crucial. In this week's segment of "Dear Matt," presented by Vistacom, host Matt Boyer, the Director of Technology at Vistacom, brings his over 30 years of experience in the audiovisual industry to the status […]
Read More