Technology is Playing a Major Role in the Hospitality Industries
SAN MATEO, CA – Technology is playing a major role in the hospitality industry's recovery from the COVID-19 pandemic. In the first podcast episode of Be Our Guest, host Gabrielle Bejarano spoke with two people who know the industry best — Jeff Aguiar, the Vice President of Partnerships and Business Development at Aavgo and Kelley Coats, the Senior Director and Head of Commercial Business at SkyTouch Technology.
Aavgo and SkyTouch are hospitality platforms meant to facilitate day-to-day hotel operations. In examining the future of the hospitality industry, Aguiar notes that hoteliers are looking to find new ways to drive profitability, including addressing labor shortages, controlling rising labor and operational expenses, and delivering secure services. Coats added that while the labor shortage in the hospitality industry has been incredibly resilient throughout the pandemic, the right tools play a significant part in improving odds.
Tools like Aavgo and SkyTouch are being implemented by both high-end and budget hotels – a unique adoption of technology that would typically trickle down from the top. Aguiar said, "That's not traditionally been the way in which new technology is adopted. Typically technology, it would start on the upper end segment of the industry, but with our solution we're seeing the gamut."
With high employee turnover rates throughout the industry, companies must make new decisions to foster positive company culture, implement new programs, and care for employee needs to create a great working environment.
About Aavgo:
Aavgo is an innovative hospitality platform designed to facilitate day-to-day hotel operations. The platform provides solutions for hoteliers to manage their properties more efficiently while providing guests with an enhanced experience. Aavgo provides solutions for revenue management, guest engagement, loyalty programs, digital keyless entry systems and more.
About SkyTouch:
SkyTouch is a hotel property management system with an interactive interface to help grow your business. The software uses multiple automations, channels, and management features to compile and integrate data and provide solutions. SkyTouch provides solutions for reservations, direct billing, group management, housekeeping, reporting, online support, automated night audits and more.
Latest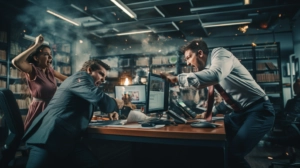 September 22, 2023
The kind of news that is delivered everyday serves as a grim reminder of the escalating violence across the U.S. Evidently, the need for proactive measures to ensure safety has never been more pressing. Such violence is not limited to any particular locale. It's actually permeating in so many different areas once considered […]
Read More