This Week's Top Headlines in B2B
Here are the biggest headlines this week in B2B. We start with a 500 million-dollar deal!
That's the final figure on the agreement between AirBnb and the International Olympic Committee.
AirBnb will provide housing in Olympic cities for the next five games, through 2029.
The deal means cities will no longer have to spend millions on new hotels to meet the influx of visitors to the Olympics.
For deeper analysis, check out the latest episode of business casual on here.
UPS will certainly be busy this holiday season but that's not stopping it from innovating at the same time.
The company just announced plans to use sensors and data analytics to track medical packages' exact location in real time.
The service is called UPS Premier, and the idea is that the company's employees will be able to better handle high-priority packages and react to events like extreme weather.
The initiative is slated to begin in early 2020.
And we end in Las Vegas, where we usually go for a trade show update but this week there is something else exciting going on in the desert.
Vegas has been fixing its intersections with cameras and sensors to help discover traffic patterns.
The city hopes the data will help alleviate traffic and congestion and the move is in line with its effort to become a full-fledged smart city.
Latest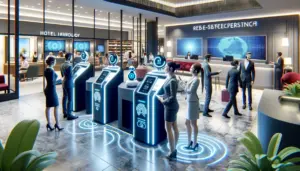 December 8, 2023
Facing critical staffing shortages, over 80% of hotels struggle to fill positions despite offering higher wages and flexible hours, as reported by a recent American Hotel & Lodging Association survey. While slightly improved since May 2022, this situation highlights a significant challenge in the hospitality industry, with housekeeping roles being the most urgently needed. […]
Read More