Travelers Gave the Energy Supplement Business An Unexpected Boost
Travel can be exhausting, and most of the time, caffeine is a must-have to keep going. Most find this in coffee, soda, or energy drinks. But what about a clean alternative? Punch'd Energy caffeine gummies are the answer. The company's President and Founder, John Pinelli joined Say Yes to Travel host Sarah Dandashy to share the brand's story.
The product's beginnings were Pinelli's desire to create something healthier for energy. "Most of us use caffeine, and a lot of times, it's whatever is there like sugar-loaded drinks."
Pinelli began developing the product on his own, iterating to create a product, now patented. "It looks simple on the surface, but it's more complex to make it taste good and be all-natural."
These caffeine gummies can be a lifesaver for the weary traveler. "You need energy to do anything, and you get run down when you travel. A little energy boost can get you through it. It's now my personal assistant for travel," Pinelli said.
By leaning on gummies, travelers don't have to worry about getting things through security or waiting in long lines. The 100% natural caffeine delivers the energy required to make it through a chaotic travel day.
Pinelli also discussed that the pandemic actually increased business. "It was the best year of business because many people are trying to do better and looking for clean labels. It fills the energy and supplement needs and is an immunity boost with Vitamin C. It's also a no regrets caffeine as opposed to other things."
More Like This Story:
Latest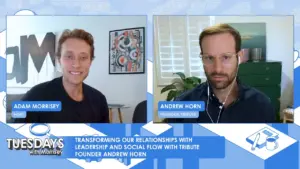 November 28, 2023
Can relationships be transformed through leadership and social flow? Navigating the intricate web of digital relationships can be a tricky proposition. Tuesdays with Morrisey's Adam Morrisey uncovers the transformative impact of emotional recognition in the workplace with Andrew Horn, the mastermind behind Tribute. This podcast edition unravels the story of a platform redefining how […]
Read More