Thanksgiving Travel Finally Sees a Rebound, Only 3% Behind 2019 Levels
While travel is ramping up this year compared to 2021's holiday season, it is doing so to a much greater extent than anyone had anticipated. Host Sarah Dandashy from Marketscale's podcast Say Yes to Travel shared, "AAA projects that more than 53.4 million people with travel this Thanksgiving." Surprisingly, she added that "This is just 3 percent shy of pre-pandemic levels."
If you are planning for Thanksgiving travel, Dandashy noted that the best time to leave and return home is before 11 AM on Friday or Saturday and before 12 PM on Sunday. These tend to be the best times to avoid traffic jams, as traffic is projected to be about 40 percent higher nationwide this year.
Even the TSA has been noticing this trend. On November 19, they recorded the busiest day since the start of pandemic, screening over 2.2 million passengers.
Another industry experiencing the impact of the rise in travel is hospitality. There is still a hiring struggle for this industry, especially within businesses such as hotels, restaurants, and airlines. Dandashy's tip: Be mindful and appreciative of your staff if you are in this industry. She added that it is important "even more so this year just given those circumstances with those long hours not as many people working so those people are feeling overlooked and overworked. So whatever you can do to show that appreciation and be mindful for the employees you do have will go a long, long way."
Dandashy expressed her appreciation for all podcast guests and clients and added that there will be a few more episodes of Say Yes to Travel the remainder of the year featuring some phenomenal guests. As always, continue to say, "yes" to travel.
More Stories Like This:
Latest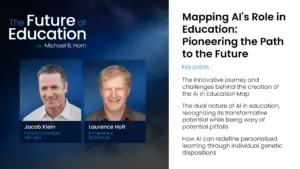 October 2, 2023
Mapping AI's role in education should be a critical step in bringing together innovative technology-based solutions with the expertise of human educators. With rapid advancements in artificial intelligence and an increased reliance on technology-driven educational solutions, the education landscape is on the brink of a significant transformation. AI promises highly personalized learning experiences, efficient administrative […]
Read More