Travelers Seek EV Charging at Hotels and Resorts. Is It Time for Hoteliers to Invest in Infrastructure?
How are hotels and resorts responding to the adoption of EVs, which hit roughly 10% of the global market in 2022? There is a lot of opportunity for the hospitality industry to increase EV charging at hotels and resorts, and give travelers another reason to seek their establishment out over the competition.
Business and leisure travelers are increasingly gravitating towards EVs for their transportation needs. Rental companies have responded to the demand by expanding their EV fleets and charging infrastructure. The city of Denver and Hertz recently announced a new partnership to expand EV charging options for travelers. That's welcome news for travelers who want an EV option. Still, unless it's a day trip, travelers need a place to stay. When vacationers and business travelers are in for the night, they'll want a place to plug in and charge up.
Travel expert at Ask a Concierge and host of TRAVEL redefined, Sarah Dandashy, has seen an uptick in hoteliers offering revamped infrastructure with EV charging options at hotels and resorts, which she believes is more than a fleeting trend.
Sarah's Thoughts
"It's undeniable that more and more people are opting for electric vehicles on the road, whether it's their personal vehicle or even whether they're opting for electric cars when traveling for a vacation or business and renting them. There are a lot more electric cars on the road. That being said, how do hotels fit into this?
It's certainly not a new concept for hotels to offer EV charging capabilities at their property, but will we see more of it? And I absolutely believe that, yes, we will. And as a hotelier and be it a hotel exec or even a hotel owner, if you're questioning whether you should offer the ability to charge electric vehicles at your property, a couple of things to keep in mind.
First is your average demographic, your market, and where you happen to be located. If there are a lot of people driving electric vehicles or opting for them as rental cars, it absolutely makes sense. The other aspect is the message that it sends. It lets travelers know that you're committed to sustainability. You're also going to be drawing in more eco-friendly customers, a lot of them even making higher price point decisions as well. There's an element of also boosting profitability by offering EV charging options at your property because you can charge a nominal fee for people to be able to charge their cars.
At the end of the day, they want peace of mind and to be able to charge their vehicle easily. So again, there are a lot of added benefits to having EV charging capabilities at a property. Now, why is this not a new concept? We should look at the top five hotel chains already offering EV charging.
You've got Holiday Inn, Hilton, Best Western Marriott, and Radisson. So, if you're looking at the big-name brands, those are some of the top brands in the industry. So again, it's not a new concept. It needs to make sense for your market and your demographic, but in general, we are shifting to more electric vehicles being on the road. And if a hotel does not offer EV charging, it is absolutely a missed opportunity. So, something to keep in mind when building out your business and planning ahead."
Article written by James Kent.
Latest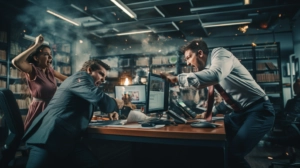 September 22, 2023
The kind of news that is delivered everyday serves as a grim reminder of the escalating violence across the U.S. Evidently, the need for proactive measures to ensure safety has never been more pressing. Such violence is not limited to any particular locale. It's actually permeating in so many different areas once considered […]
Read More