What Dropping Pre-Departure Covid Tests Will Mean for the Travel Industry
Renowned travel expert and #1 Amazon bestselling author of Hospitality from Within Sarah Dandashy continues to stay on top of emerging trends in the travel industry. Having recently discussed the negative impact of pre-departure covid testing requirements to renter the United States, Dandashy talked about the possibility of the requirement ending in June 2022 and what that would mean for travel.
"Now, for those that are following along and certainly trying to plan their future trips you know that if you travel internationally many restrictions have been lifted in and around the world," said Dandashy. And she continues to note that as of June 2022, "leisure travel, as a whole, domestically within the United States, we are seeing numbers unlike really anything before. Definitely, numbers that are surpassing 2019 but where we are still lagging is in international travel."
However, this is likely to change during the second half of 2022 if the current rules stay in place. As of June 12, 2022, the CDC (Centers for Disease Control) lifted the order "requiring persons to show a negative COVID-19 test result or documentation of recovery from COVID-19 before boarding a flight to the United States." The CDC also noted the organization "continues to evaluate the latest science and state of the pandemic and will reassess the need for a testing requirement if the situation changes. CDC will communicate any updates publicly if and/or when they change."
For now, things are looking up for the travel industry. The lifting of this order will surely increase the number of people willing to travel internationally, especially since many countries have relaxed their entry requirements as well. Dandashy also believes that "we will see an influx of international travelers coming to the US" which will bring a significant revenue increase to the travel industry throughout the country.
This is a common belief of industry experts. "Airlines for America said its members — including American Airlines, United Airlines, Southwest Airlines, and Delta Air Lines — had believed lifting the requirements would lead more foreigners to visit the US," (CNN).
Roger Dow, President, and CEO of the U.S. Travel Association, also agrees with this assessment and notes the overall impact this move will mean to the U.S. economy. "Prior to the pandemic, travel was one of our nation's largest industry exports. The lifting of this requirement will enable the industry to lead the way toward a broader U.S. economic and jobs recovery" (Travel Pulse).
This news is sure to get travelers excited as well since the stress associated with the 1-day testing requirement is gone. Many travelers avoided international travel over the concerns of securing a test in time to return home and the potential for an infection to prevent them from returning home for weeks.
Survey results released in April 2002, indicated that Americans are ready for Covid-related travel requirements to end. In fact, "Almost half (44%) said they'd be more likely to travel if the requirement was removed; just 10% said they'd be less likely to travel, and 46% said ending the policy would not impact their travel plans either way" (Tripit).
And, the U.S. Travel Association predicted that the travel industry could see an additional 5.4M visitors resulting in $9 billion dollars in revenue.
Latest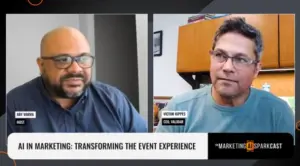 November 28, 2023
AI has been gradually changing the landscape of event technology at a very rapid pace. In an industry where staying ahead of technological trends is crucial, AI's impact on marketing and event management has become increasingly significant. As witnessed in the rise of account-based marketing and enhanced personalization, AI is effectively reshaping how events […]
Read More