What To Keep In Mind As Travel Ramps Back Up
One of the biggest disappointments of the COVID-19 Pandemic was the halt to travel. Planes grounded, trains stopped rolling, and automobiles were parked in the garage while the world stayed inside to slow down the spread of the deadly virus. Nearly a year-and-a-half later, travel is starting to pick up again, so what are some things to consider as it does?
Travel and lifestyle writer for food allergies Allie Bahn shared some tips on MarketScale about what to keep in mind before returning to the great unknown if you're traveling with environmental and food allergies. The first thing to consider is your accommodations upon arrival and what the hotel can do to make sure you have a comfortable stay.
"The first is to make sure you do your research ahead," Bahn said. "Call the hotel to see if they have an environmentally-friendly room for you to stay in."
Once you know where you're going to stay, you need to consider how you will travel to get there. If you are taking a plane, everyone is still required to wear a mask, so there isn't as much food being consumed on flights. It is also limiting the allergens spread from person to person.
The next thing to consider is restaurants and dining because it's getting a little bit tricky right now. After all, there's been a significant turnover amongst employees. This means that the new staff might not be as used to or accustomed to food allergies.
"It is really important, as the customer, to communicate nice and clearly," Bahn said. "Ask for a manager. Also, try to let the restaurant know ahead of time you're coming and make sure they are able to safely accommodate you."
To learn more, watch the full video and keep it locked to the Homepage of B2B for more travel news and insights.
Follow us on social media for the latest updates in B2B!
Twitter – @MarketScale
Facebook – facebook.com/marketscale
LinkedIn – linkedin.com/company/marketscale
Latest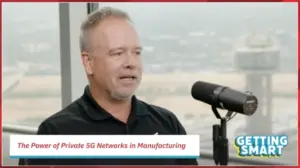 September 25, 2023
The Convergence of 5G and Automation in Manufacturing: A New Industrial Revolution The manufacturing industry stands at an inflection point. Advances in 5G technology and automation are coming together to transform the way products are made, and the role that humans and machines play in this process. Per Treven, Director of Business Development at Ericsson, […]
Read More