Where You Can Find the Next Great Robot-Cooked Meal
Robotics Boost Culinary Efforts into the Future
Are robots the next culinary breakthrough? It may seem like something from the Jetson's, but robotics are making their mark in the restaurant industry. While the innovative technology is driving this trend, so is the labor market. Wages are rising throughout the country, and since the recession has ended, the job market is plentiful, so businesses have to be able to compete. It seems that investing in robotics can be a way to trimming payroll and increasing consistency.
No Chefs, Just Robots at Boston Eatery
One restaurant where the robots run the show is the restaurant Spyce in Boston, which was launched by a group of robotics engineers from MIT. They partnered with Michelin-starred chef Daniel Boulud to explore the idea of is cooking more science than art?
The restaurant has a staff of seven automated cooking pots—no chefs. These pots complete meals in around three minutes! Once an order is placed, an ingredient delivery system collects what is needed. The ingredients are placed into the pots in the right measurements and tumbled about at 450 degrees.
Once the cooking is complete, the pots deliver the goods to a plate, which is then served.  The restaurant does employ humans for those tasks robots cannot do, but the restaurant's owners say using robotics has cut costs and improved efficiency.
Fast Food Embraces Robotics for Food Prep
Food prep can be very time intensive and often takes multiple staff. Fast food companies needed a better solution to create more effective workflows with fewer workers. The labor shortage has been the biggest catalyst for fast food turning to robotics.
Arby's' across the country are installing ovens that roast its beef automatically. This means meat can be cooked without supervision cutting down on the time it takes to have their product ready to serve. It also means that morning employees do not need to arrive as early to start the roasting process, cutting hours and costs of labor.
Dunkin' Donuts has also found success with robotics that grind and weigh coffee beans and then asses the grind's coarseness. These small prep tasks no longer need human intervention, so employees can focus on more important things like serving customers.
More Robotics Startups Pop Up
With the demand growing for robotics, more tech startups are launching. The startup Moley designed the first robotic kitchen. It has a fully functional robot integrated into a professional kitchen. It cooks with skill that rivals master chefs. The commercial prototype has been hailed as an innovative and a breakthrough in the world of technology and food service.
This growing trend will continue as restaurants deal with how to best serve customers with less staff and more technology. In fact, it is pretty easy to order in many restaurants now without interacting with a cashier, using a kiosk instead.
The future could be that restaurants have minimal human labor. With robots already in the kitchen, it is only natural that they will have a larger impact on the hospitality industry as a whole.
Latest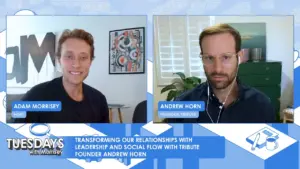 November 28, 2023
Can relationships be transformed through leadership and social flow? Navigating the intricate web of digital relationships can be a tricky proposition. Tuesdays with Morrisey's Adam Morrisey uncovers the transformative impact of emotional recognition in the workplace with Andrew Horn, the mastermind behind Tribute. This podcast edition unravels the story of a platform redefining how […]
Read More